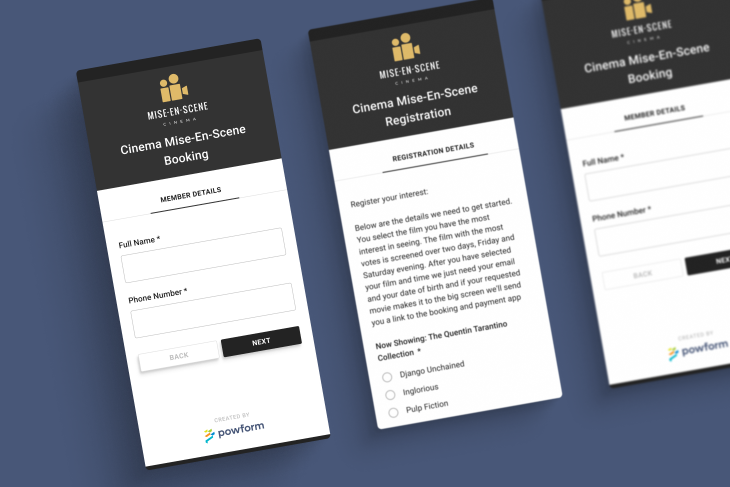 Exporting a branded PowForm web app (with payments)
The two app solution has been created in Forms and will now be exported. PowForm has made it straightforward in technical terms to export the app and share it with your customers, PowForm ensures that your eye-catching design is visible to the public. If you are new to marketing, PowForm has a solution for your visibility and if your brand is already established then PowForm is the perfect tool for growth, but before we go into that it is useful to first talk about brands. 
It is important for establishing a name and a reputation, it sets a standard for the customers' expectations and provides employees with purpose and direction. The app is not just a tool to collect payment or information, PowForm's uniquely branded web app is your first point of contact with many customers. 
Not only that, but it helps generate arguably the most valuable currency in marketing itself, word of mouth. When they see everything combined on your personalised branded app - the name, the logo, even the colour palette - they will have assumptions about the kind of service they will receive. With PowForm's application, they will now associate how effortless and quick the service is going forward, and their friends and family will too.    
How PowForm helps you express yourself through our uniquely branded apps
Name 
What's in a name? It is a complex question that marketing teams invest in to answer properly. It can mean any number of things to one customer/client. The name comes into their mind, maybe they hear or see an advertisement and they think back to an experience they had with customer service. Perhaps they need to buy a pair of shoes and already three brands that they associate with footwear by name come to mind. PowForm provides that visibility and an association with an easy and safe customer journey. 
Description 
Provides further context on who you are and what you do, it is important to make this section as clear and detailed as possible. If it is a limited time offer for example, let the customer know that they have a short window to act before the seats are all booked out. 
 It sets expectations, and leaving this section blank is not encouraged as it does nothing to guide the customer on their journey. It can contain your mission statement during the prospecting stage or simply to provide some clarity on what your customer is getting themselves into during payment.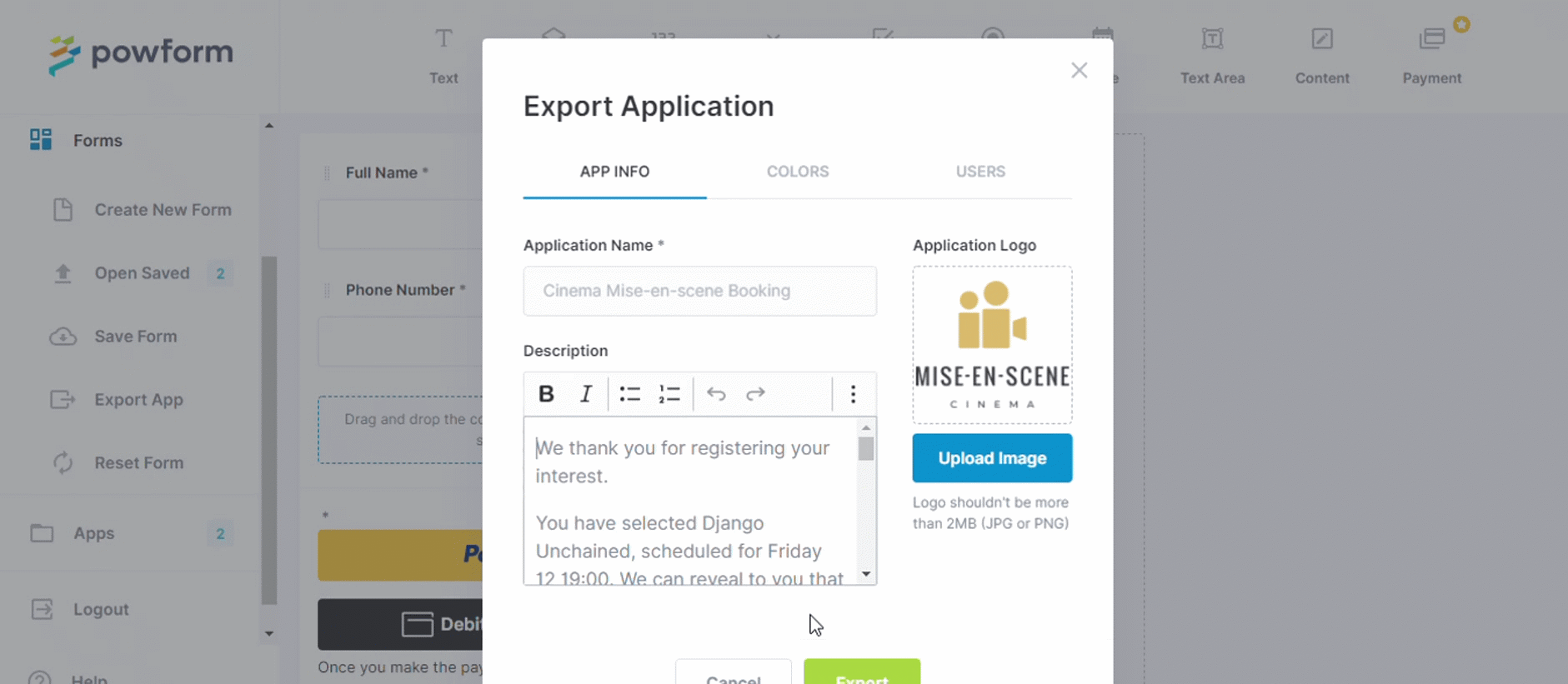 Colours 
Colour palette can be an overlooked aspect of branding, as it can come to be associated with your brand's identity. PowForm offers a wide range of colours. In most people, their strongest vision is sight and it can be stimulated with the correct use of colour (the most famous being red as a sign of danger). When people look at colour, they feel, and there is research to back this up. If you want your brand to be seen as cheerful and energetic, pick a bright orange colour. Perhaps you want your customer to feel warmth, they might even look for warmth themselves, so a nice yellow will provide the heat.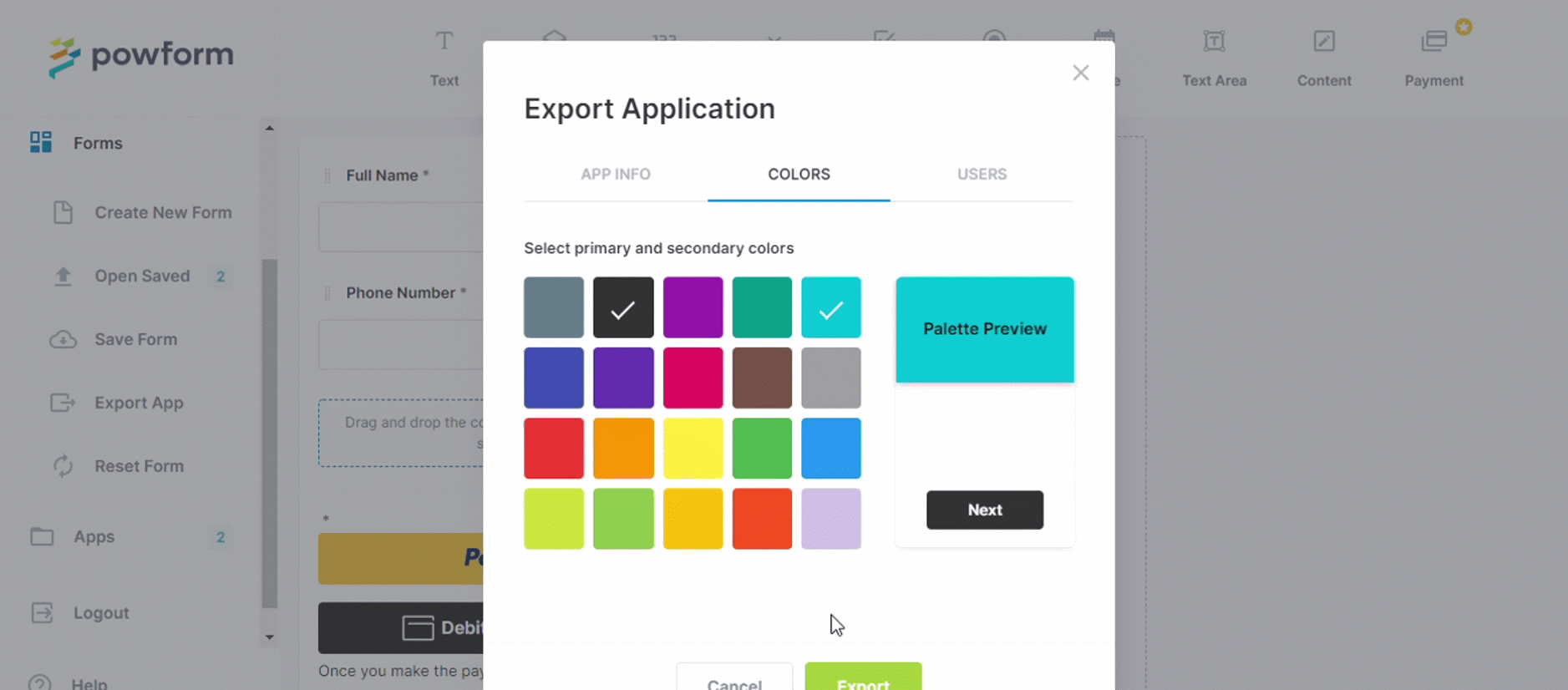 Logo 
Another key pillar of brand association, some brands such as Starbucks and Mastercard (now that the world is well acquainted with them) have removed their names from their logos. A symbol of what the customer is to expect, when they see the Nike Swoosh they think of victory and speed. PowForm places your logo front and centre, the symbol of your vision that others will come to know and love as you have.
Managing your customer base with Powform
You have developed your own unique identity, now let Powform help you show it off. You can manage your email list on our Published App Dashboard, we have provided an example of what the dashboard looks like.
PowForm provides the ability to set an expiry on your app, which is a good fit for during the prospecting stage and the customer qualifying stage. It is important to maintain good email list health, if it goes unchecked it can result in a higher rate of emails bouncing to spam.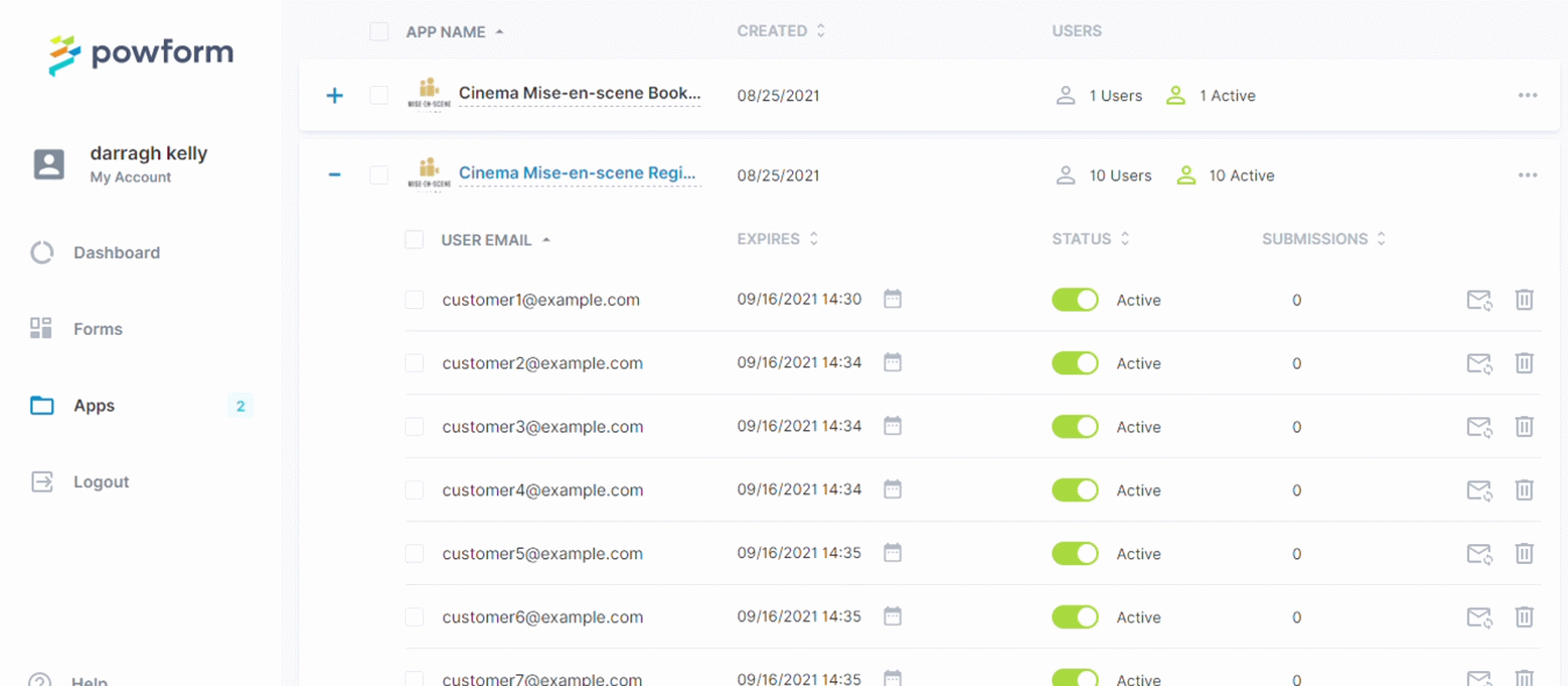 From here you place a submission limit reached on your list, this is excellent for event planning, not to mention that scarcity is a key component of Marketing 101 after all. This should be highlighted in the description section during the export of the app.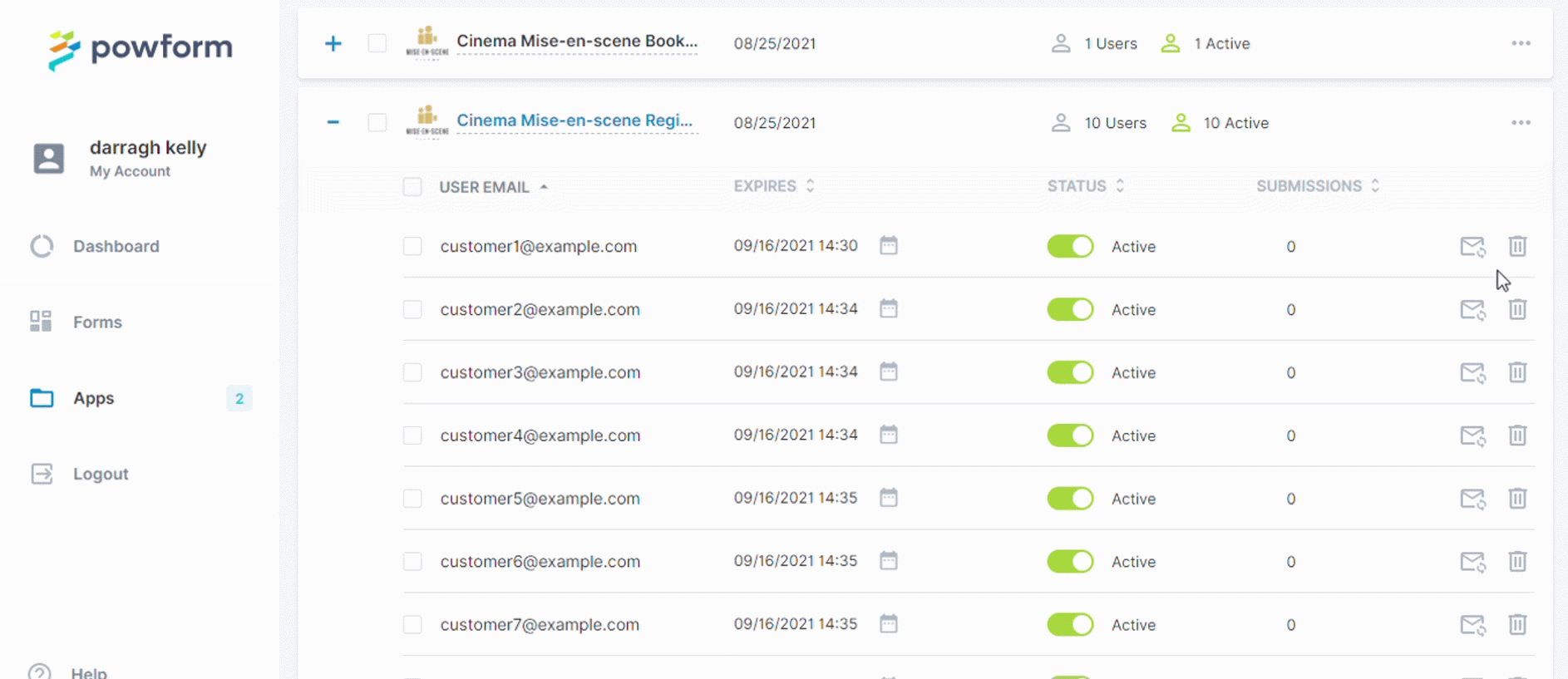 In-App Messaging is a useful tool to touch base with your customer emailing list and provide information on the service. When the submission is filled, messages can be sent out to inform the customer, or when the app expires, or even if there is no activity the customer can be informed.
Highly Configurable - No Coding
Build professional and fast branded e-commerce and customer data collection web apps, no coding experience needed. Scalable solutions that can be built and integrated into your business in minutes.

Powform enables you to create branded, interactive, multi-feature apps for mobile and desktop browsers, including all the smart features you need collect customer data and payments. With the addition of conditional logic you can provide a more tailored experience for your customers. Our managed secure database allows you to store and analyse all submitted web app data.
Get Started Now