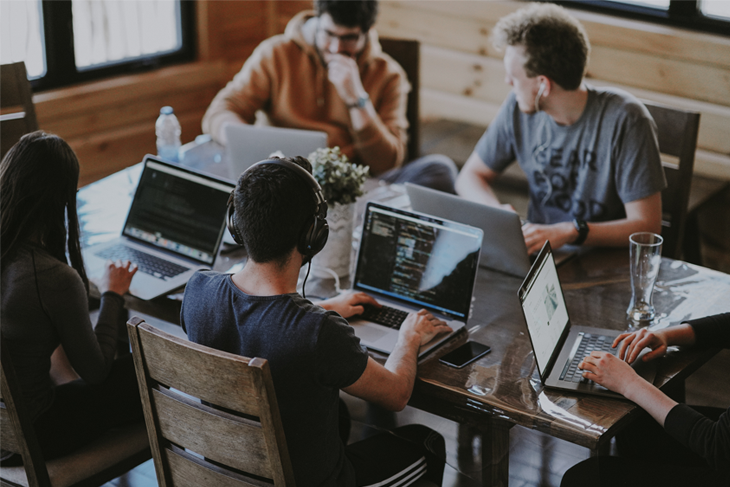 Collaboration Tools: How Powerful Can a Sharing Feature be?
If you are looking to make your teams more productive and efficient, then it's crucial to invest in team collaboration tools, such as a sharing feature. This functionality is designed to make your team interact and communicate with each other in a faster, easier, and clearer way.
Even if you are figuring out how to enhance your team work routine, there's always room for improvement. Keep reading to learn how collaboration tools and a sharing feature will optimise your workflow!
How team collaboration works and why it's relevant?
First, understand that team collaboration extends beyond just people working on the same task. It's the implementation of design tools or methodologies for a team or project management, making the members work together cooperatively.
Also, it doesn't mean your team members need to work on a project simultaneously, which is called synchronous collaboration. Collaboration can also be asynchronous, which means team members contribute at different times — bringing more flexibility to the workflow.
No matter which one of these types you implement, it's widely known that team collaboration is relevant for any business' success in the modern corporate landscape. For example, data from Queens University of Charlotte shows that nearly 3 in 4 employers rate collaboration and teamwork as very important for their business.
What are the real benefits of using collaboration tools?
By using collaboration tools in your routine, you will experience improvements in your team productivity, your office culture, and your company results in general.
Strong communication
Communication is the main pillar of team collaboration, as they need to be willing to share information and knowledge clearly. Collaboration tools allow two or more members to work together without any confusion, noise in communication, or misunderstandings.
Increase employee engagement
The use of a collaboration tool on a regular basis makes your employees communicate clearly and more frequently. This creates a healthier work culture, as they trust, help, and understand each other better.
Better productivity and efficiency
As different employees work together more often, they start collaborating more and combining their expertise together. One employee doesn't need to develop a new skill to finish their task, if they find a barrier in their routine. With a proper tool, it's possible to join forces with a colleague to overcome a weakness. This cuts down a substantial amount of time required to complete the project, boosting general productivity.
Employee motivation
When employees encounter a difficult task, they can feel demotivated. However, a study published by Stanford shows that 64% of people who collaborate with their team commit more time to a challenging assignment. They get more motivated because a collaboration tool encourages people to work together towards a goal.
What is the sharing feature and how is it relevant for my team?
Your team needs the right collaboration tools to ensure the benefits listed above, and the sharing feature is crucial for that purpose. This is an asynchronous collaboration tool that lets your team send information or tools to each other.
The main purpose of this functionality is to encourage team collaboration within your business network. This is accomplished when your solution allows for quick sharing of a project among your team members.
It's important that the solutions and platforms used to create any kind of project or prototype have a sharing feature, such as a form builder.
Let's say more than one employee is involved in a project to create a form. Instead of each employee having to build the same prototype from the ground up, they can simply share a base form and its modified versions between themselves.
However, keep in mind there are some requirements the sharing feature should meet for it to be beneficial for your team collaboration:
Team members

can quickly share projects

. That is, there should be no long waiting times until the project arrives at the receiver.

The communication method used to send the project is easy to access, such as

email

.

It must be

user-friendly

, which means it's aimed at maximum user convenience. 

Your team has access to an

easy-to-understand guide

to help them learn how to share quickly.
Form Sharing: how powerful is this collaboration tool?
The online form builder itself serves as a valuable asset for your business' communication. It facilitates data collection from your clients, partners, candidates for a position, and other possibilities.
By using Form Sharing, you can enhance team collaboration and communication during form building.
Once the form initial project has been created and saved, the user can send it to the email address of a colleague. The receiver can make adjustments and send the updated version back to the original sender. Or they can just export the form into a Web App, which means it's ready to be delivered to your clients.
Imagine you need to create a Web App where you collect data for an employment application or for a credit application. These are examples where more than one employee may be needed for the project. One employee is responsible for building the first prototype of the form. Then, this initial version is sent to another employee asking for suggestions, a revision, or the addition of components.
Form Sharing still provides endless possibilities for your team's routine, such as:
Show a teammate how

Conditional Logic (CL)

can be used to personalise the user's experience;

Send it to another employee and ask for specific changes.

Demonstrate to someone how a form can be structured.

Ask for revisions, feedback, or an opinion from another user.

Send it to a supervisor for approval.
What are the advantages of Powform's Form Sharing feature?
Combining an online form builder with a sharing feature is already an invaluable ally for your business workflow. But Powform's Form Sharing functionality brings even more benefits to the table, leveraging your team's collaboration:
Exceedingly easy-to-use platform

with

guides

that teach your team how to use each of its features.

It's possible to send the form (both initial and modified versions) to

multiple users

at the same time.

Offers an optional box where the sender can

write a message

to the receiver. 

The

forms are delivered instantaneously

to the receivers.
With a collaboration tool, such as form sharing, you not only strengthen your team's productivity, but also their engagement, communication, and motivation. However, you need a platform with a straightforward sharing feature, such as Powform.
See how Form Sharing works and how Powform can enhance your workflow even further with integrations!
Highly Configurable - No Coding
Build professional and fast branded e-commerce and customer data collection web apps, no coding experience needed. Scalable solutions that can be built and integrated into your business in minutes.

Powform enables you to create branded, interactive, multi-feature apps for mobile and desktop browsers, including all the smart features you need collect customer data and payments. With the addition of conditional logic you can provide a more tailored experience for your customers. Our managed secure database allows you to store and analyse all submitted web app data.
Get Started Now