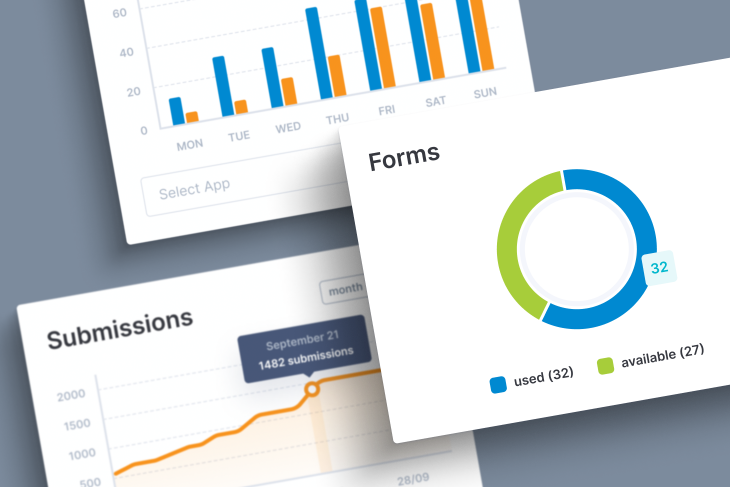 Understanding The Dashboard Widgets
c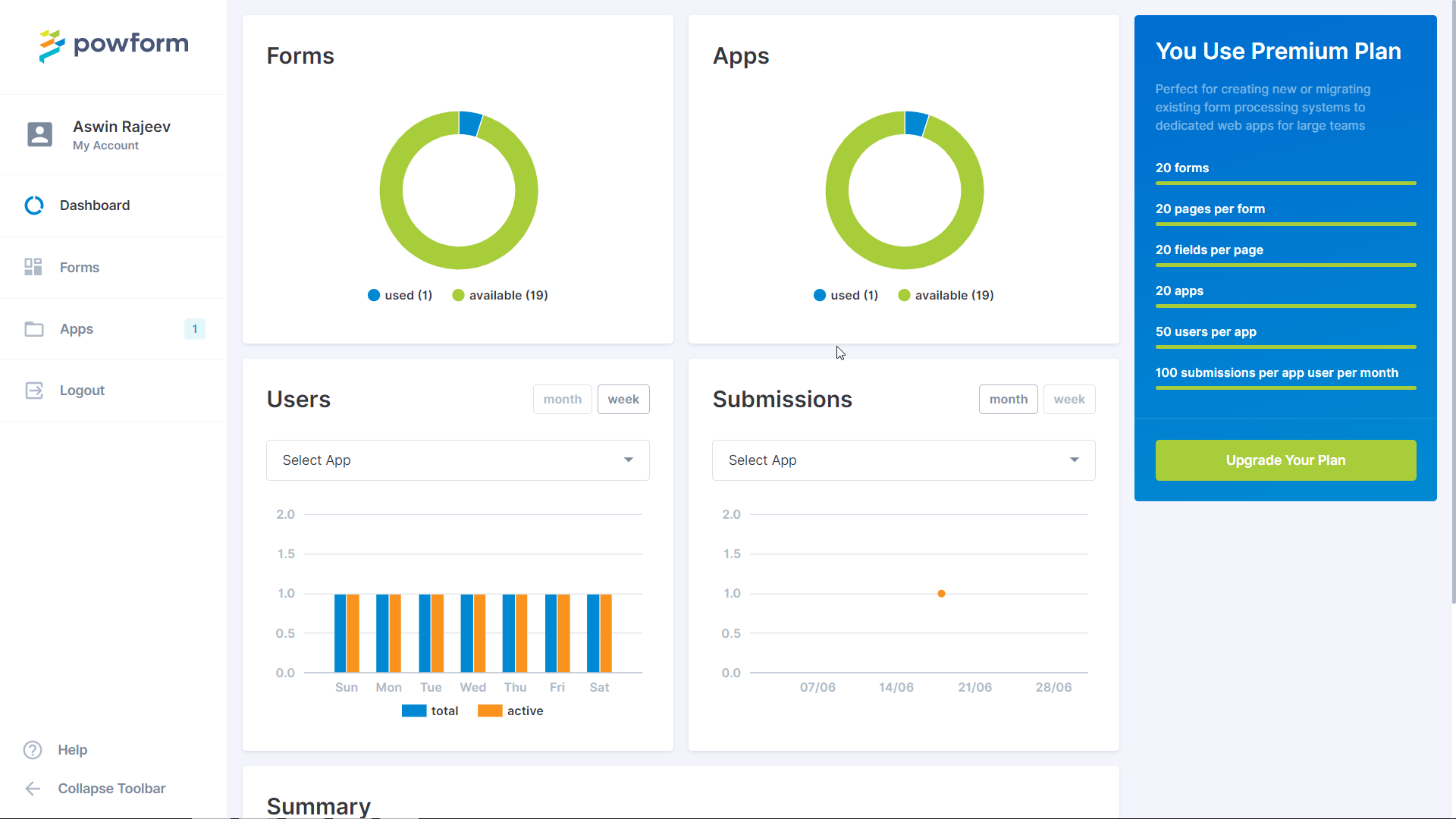 Forms
The first widget is for forms. This will show the number of used forms as per your plan and the available ones. For the premium plan, we have a total of 20 forms that we can use and that is shown below. Hovering over the widget will highlight the information.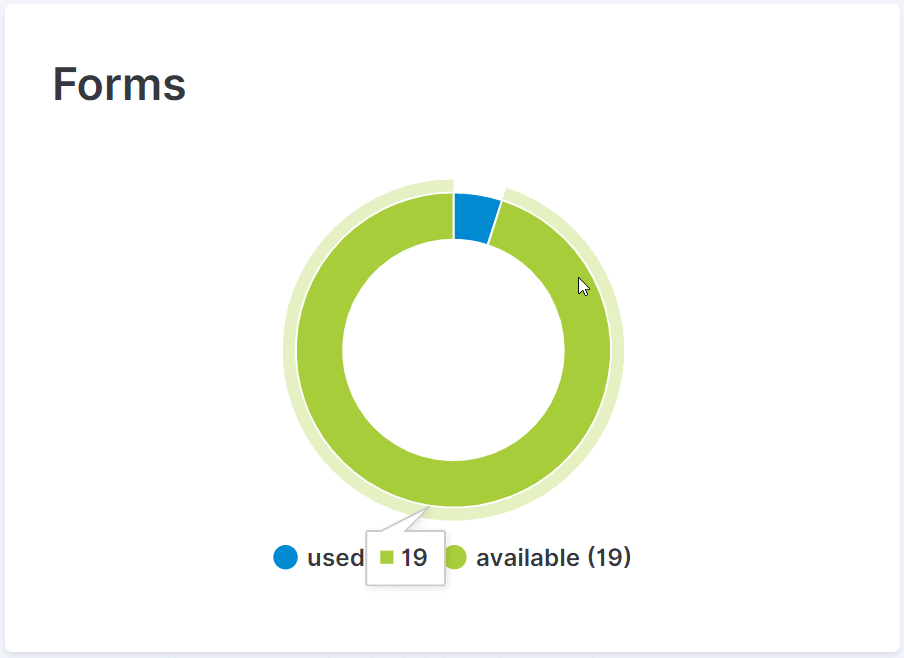 Apps
The next widget is for the apps that we build from the forms. This will again show the number of apps used as well as the number of apps that are available based on the user's plan. Similar to the forms widget, the apps widget will also highlight the information when hovered over.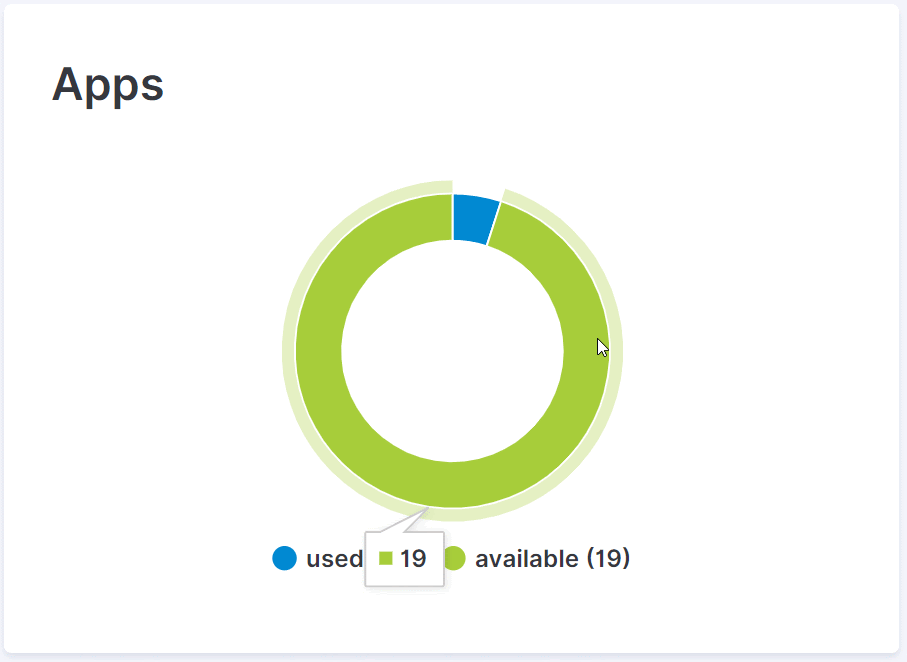 Users
This widget shows all the users that are using all the apps. The view can be changed from per week to per month or vice versa. By default, it shows the users for all the apps, but this can be changed from the drop-down by selecting the app of your choice. Since we had chosen the anonymous user option, it shows up as a single user. We can add more users from the 'Apps' page and that will come up on this widget.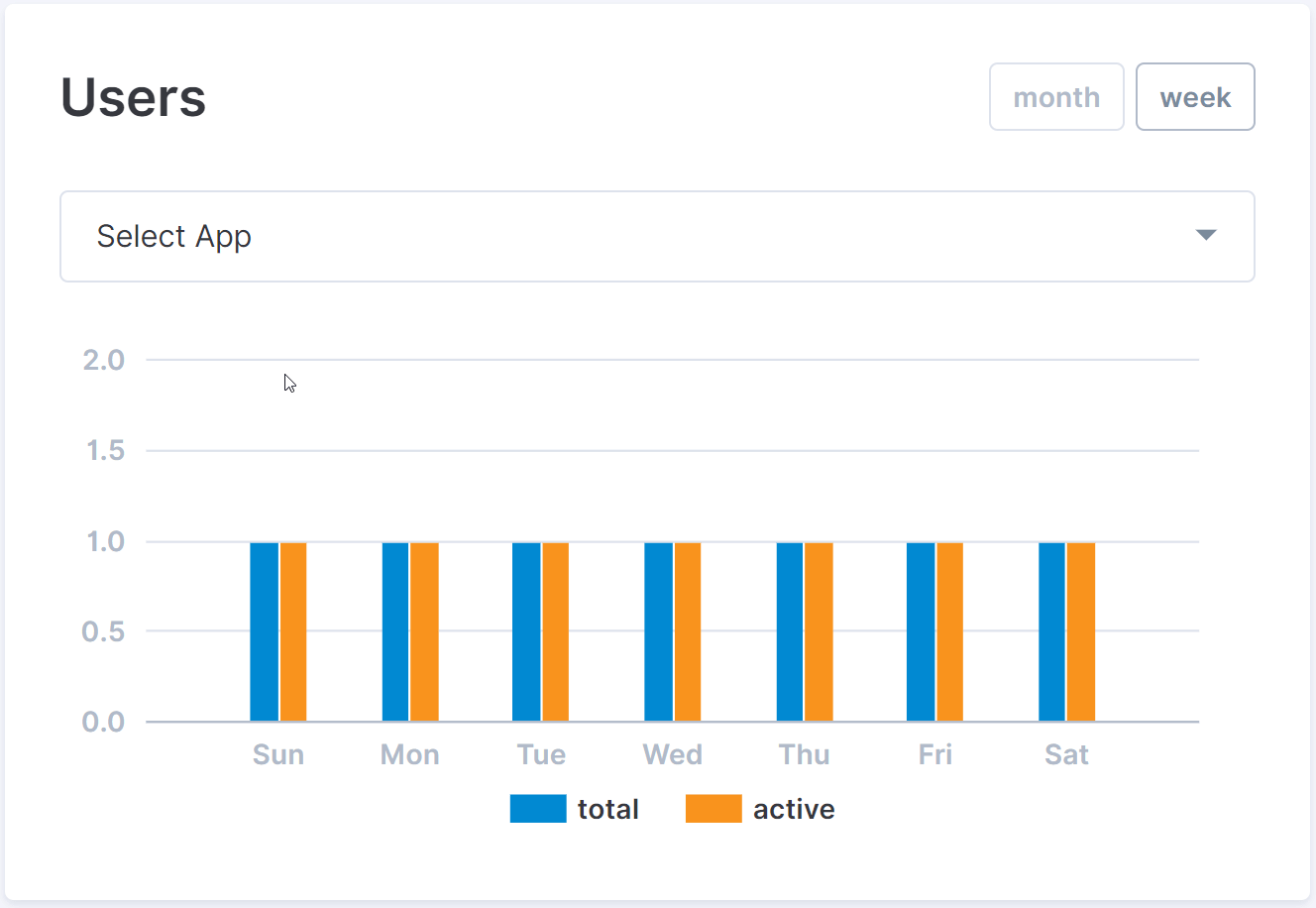 Submissions
The submissions widget shows the total number of submissions across all the apps. Similar to the user widget, the view for this widget can also be changed from per week to per month and vice versa. There is a drop-down that allows you to select a specific app to view its submissions as well. When a submission is made, it will show up as a dot on the graph corresponding to the date and number.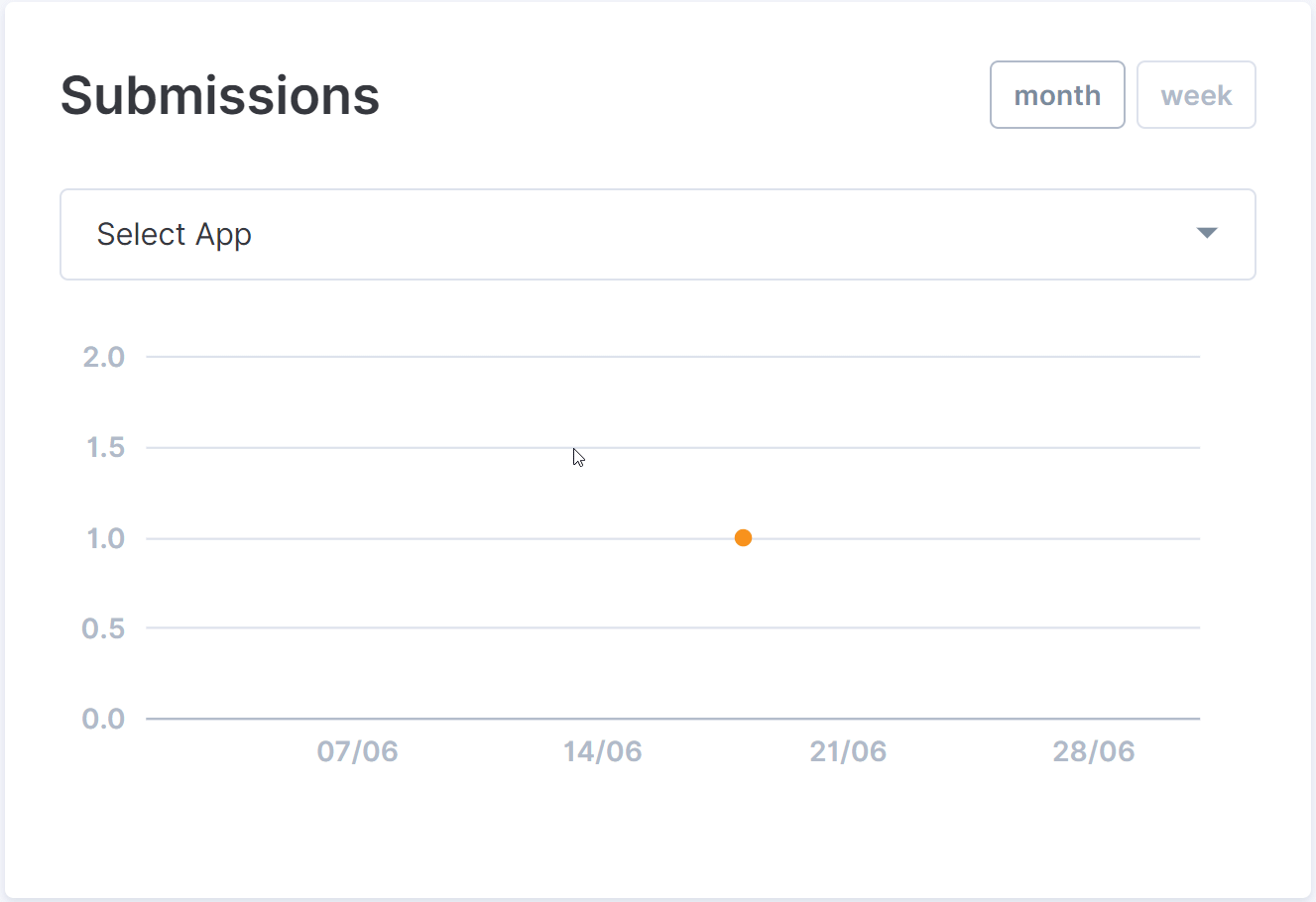 Summary
The summary widget shows a collective view of the information present in the above four widgets. It shows the total number of forms created, the total number of pages created, the total number of apps created, the total number of users versus the active ones, and also the total number of submissions for the current month.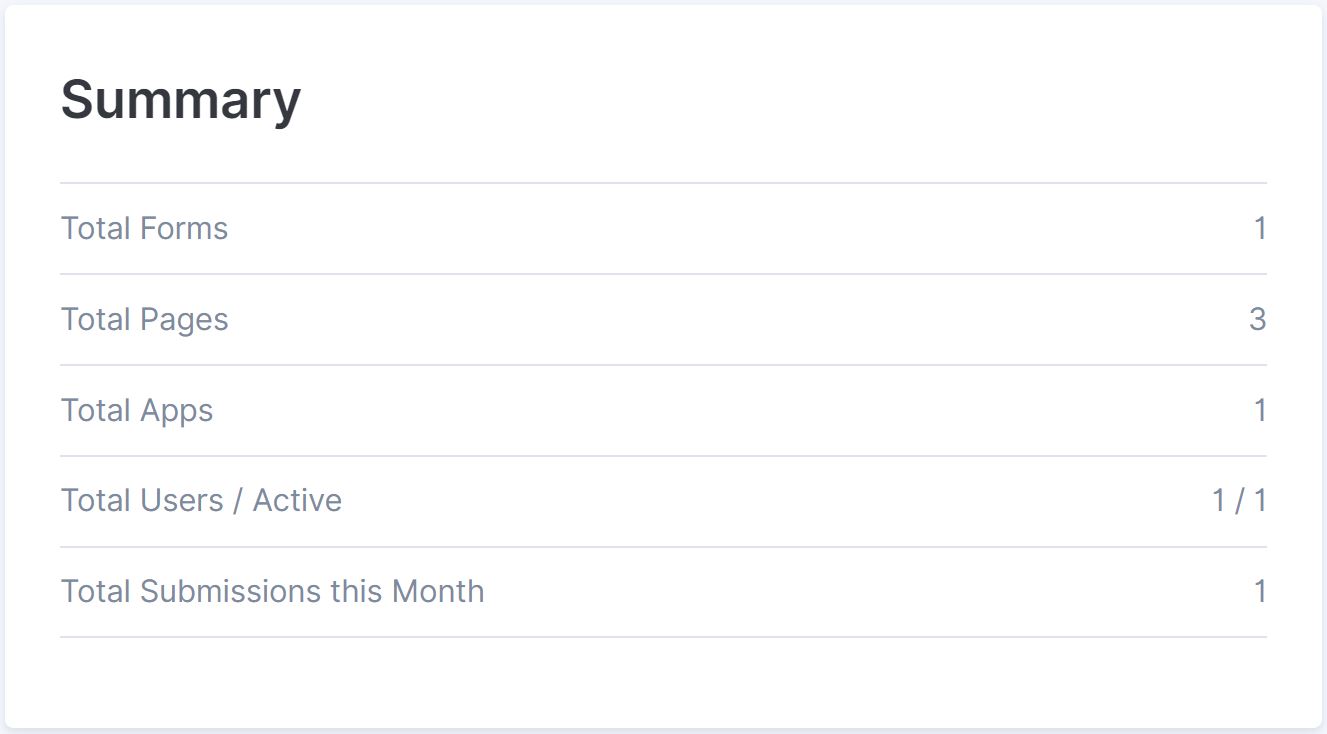 Plan
The plan widget shows all the details of the current plan in use. For instance, we are currently using the Premium plan which has 20 forms, 20 pages per form, 20 fields per page, and 20 apps. It supports 50 users per app for a total of 1000 users and each of these users can submit up to 100 times every month. Clicking on the 'Upgrade Plan' button will allow you to purchase different plans that are available from Powform.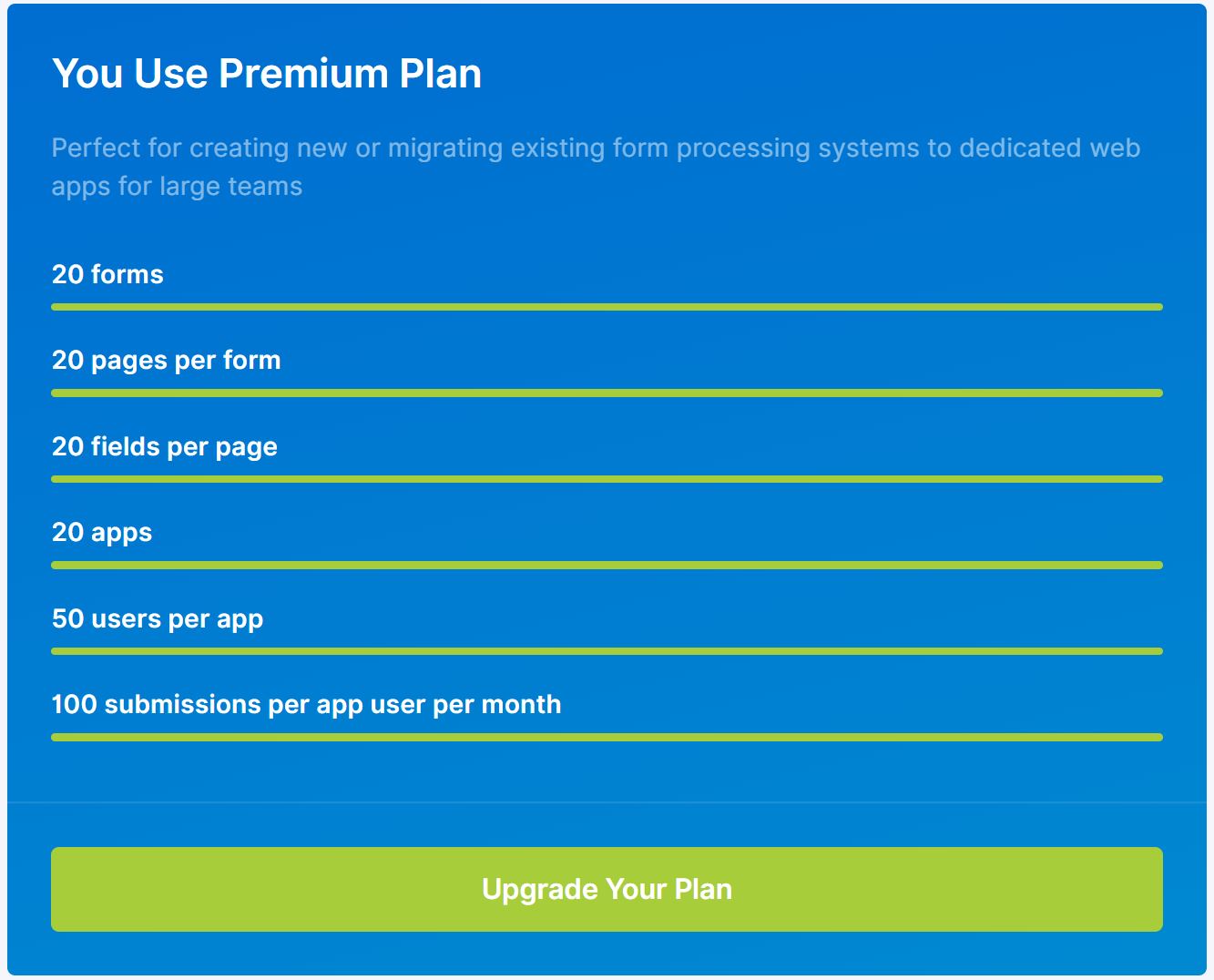 Wrapping up
That marks the end of our third article in this series of introductory posts aimed at introducing the platform. The Enterprise plan of Powform has the ability to configure additional widgets which present submitted data, filtering, querying, reporting, exporting, etc. We hope that you now have the know-how to get started with Powform and build your first form-based branded web app.
No-Coding - Branded Web Apps
Build professional and fast branded web apps and online forms, no coding experience needed. Scalable solutions that can be built and integrated into your business strategies in minutes, leaving you with more time to deal with more complex areas of your company.

Software development is not everyone's specialty, but there are alternatives to hiring a team of front-end and back-end developers. Entrepreneurs, employees, and designers do not require even a working knowledge of HTML, CSS, or JavaScript.

If you and your computer cannot speak with one another then allow Powform to translate, no coding skills needed on your end.
Get Started Now