Form Building via CSV Import Wizard
The Import CSV Wizard can be helpful and time-saving during form creation.
Instead of building a form from zero every time, the Importing Feature allows you to bring in pre-existing data or templates from external sources into your form building platform.
Below you will discover how to use this functionality.
How can this feature be useful for me?
Our Importing Feature is designed for companies that already gather and handle data using Excel or Google Sheets. However, instead of manually typing a spreadsheet, you can import it into Powform's form builder. Then you can convert it into a customised and uniquely branded Web App.
Where to find the Importing Feature
To locate the Importing Feature you need to login to your Powform dashboard, navigate to the left panel and select either "Create New Form" or "Open Saved" and open an already existing form.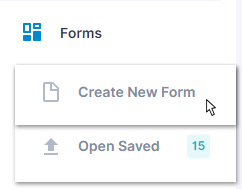 You will find both Edit and Import options after clicking the 3 dots to the right of the page name.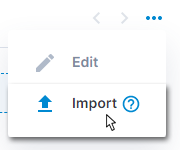 By clicking the question mark, a pop-up prompt will appear explaining the purpose of this feature: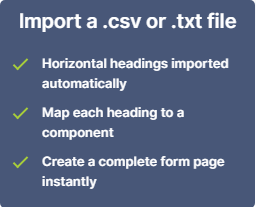 As you can see, headings are imported automatically and you can create a complete page with a few clicks.
To enjoy these benefits, you need to know how to get these .csv and .txt files.
How to use the Importing Feature
Navigate back to the Form Creation panel and either create a new form or open an already saved one. Now you just select the Import option, choose your .csv or .txt file;
In practice, the feature will read the first line of your spreadsheet's horizontal titles, just like in this example:

There are some requirements that your .csv file should follow to avoid any problem:
Their heading row is the first horizontal line in the document.

You must use commas as column and field separators;

Avoid punctuation in the header row, as this can create more headings than necessary.
A new prompt will appear and here you can select the labels you wish to import and their components. That means it's possible to manually add and remove each heading before confirming.
Finally, click "Import" and you'll have the components on that page.
See how to do this below: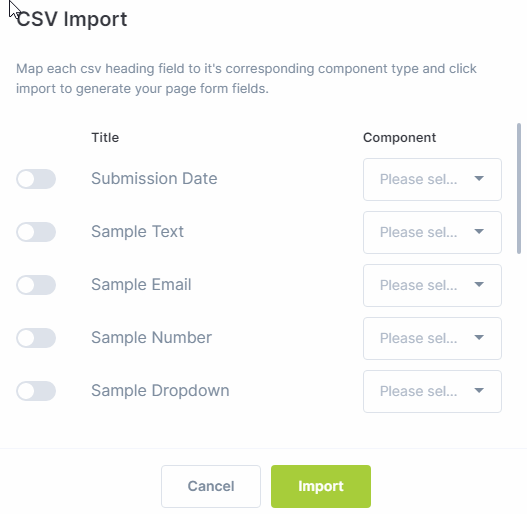 Try this feature yourself now and create customized forms instantly!
Highly Configurable - No Coding
Build professional and fast branded e-commerce and customer data collection web apps, no coding experience needed. Scalable solutions that can be built and integrated into your business in minutes.

Powform enables you to create branded, interactive, multi-feature apps for mobile and desktop browsers, including all the smart features you need collect customer data and payments. With the addition of conditional logic you can provide a more tailored experience for your customers.

Our managed secure database allows you to store and analyse all submitted web app data.

Want to store all app data in house?
App submissions can be directed to other business systems via secure authenticated api services.
Contact us today to discuss your custom branded no-code web apps requirements.
Get Started Now