Student Loan Application
Student loans help students cover educational expenses, which can be requested by current, previous or future students. The Application Form is an online and easy method of collecting borrowers' information to check if they are eligible for a loan
As this type of loan can be requested by different types of clients for various purposes, this a flexible template that asks for basic information for them all. Check out how it works!
Industries for this Template
A wide range of businesses industries can use this kind of form to offer credit accounts to their prospects. This template is useful for all industries, such as:
Education

Financial Services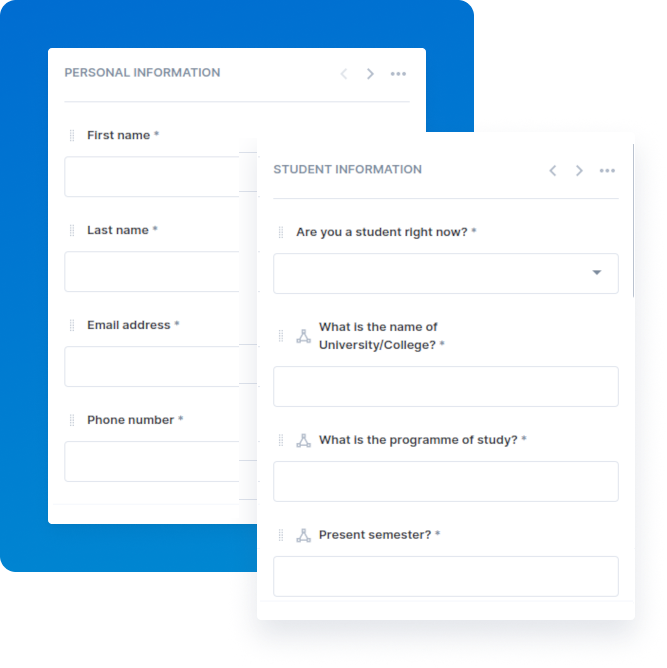 Sections of this template
The most relevant aspect of a student loan is to identify its purpose and collect data about the borrower's profile. For that, this template contains the following sections:
Personal information

Student information

Loan purpose

Repayment terms

Confirmation and documents
Benefits of this template
Apart from being easy to access and fill out, flexibility is the key to maximising the user completion rate of this type of application. Check out how our template provides this benefit.
Covers all profiles
Although most people interested in a student loan are enrolled in a college or university program, it's possible that a borrower is a future student or was one in the past.
In this template the fields are personalised according to the borrower's profile. For example, if the client is a recent graduate and needs to cover past-due tuition, he can select this option and specific fields for this kind of client will appear.
Also, the form changes depending on if a client is applying for standard graduation or post graduation.
All of this flexibility is possible thanks to Powform's Conditional Logic (CL) feature, which you can learn more about here.
Instantly inform your clients about the requirements
Not all types of borrower need to meet the same conditions to qualify for a student loan. In this template, we set up some examples of requirements if the loan is for standard graduation or post graduation. You can easily erase or alter these conditions according to your business's policy.
With the Powform In App Messaging feature it's also possible to automatically send an email or SMS to your client as soon as they submit the application. Additionally, you can prepare emails and SMS templates to tell them if you need more information, more documentation, or if they are eligible or not for a student loan.
Fully customisable
This is not a static template, you can drag-and-drop fields asking for more information, change the fields, add more possibilities and profiles of students, and more.
Let's say you want a section where the student's guardian is the one requesting for a loan. On the first page you can ask if its borrower is a student or guardian, and add fields for their personal information.
More credibility
It is crucial for institutions of financial services to provide more credibility to their forms, since clients will feel more comfortable providing their personal information to you as a result.
For that, you can add your logo, brand's colours and background while exporting the form into a Web App. By doing that, your clients will know they're filling in a legit and official form.
Exceedingly easy, fast and simple to use. Our process is as simple as 2 clicks: import this into your profile and export it as a dedicated Web App for your customers.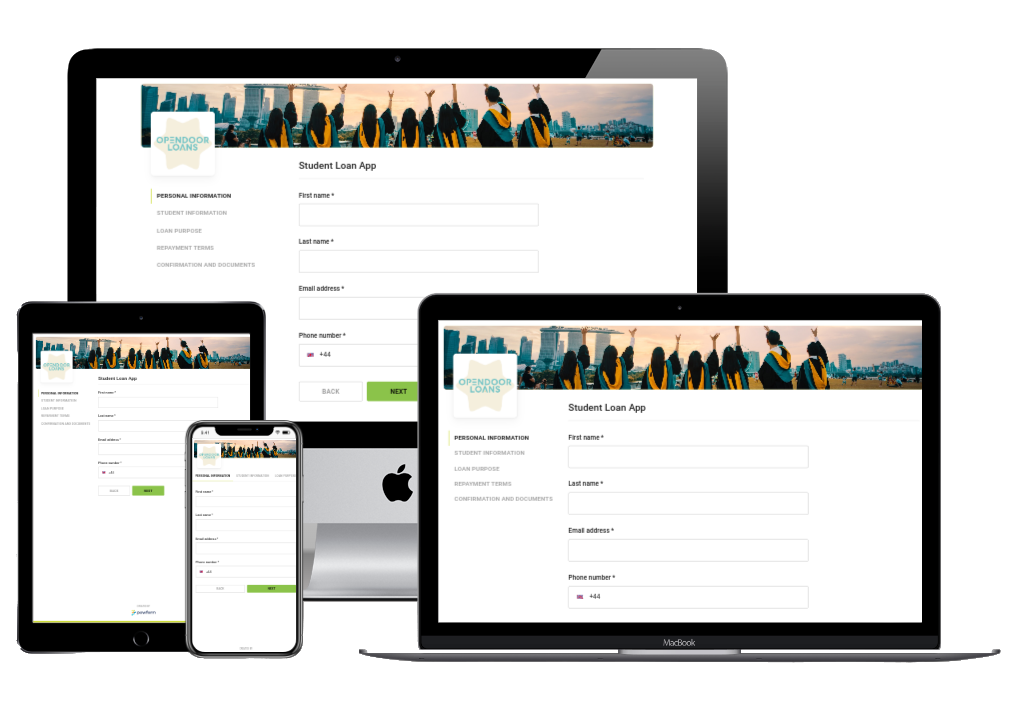 Build your own App
This template is not static and you can customise it however you want. Import it into your profile, and open it in our easy-to-use drag and drop form builder to:
Use the

file upload feature

to ask for documentation;

Add or remove pages;

Edit, add or remove fields;

Apply conditional logic;

Allow your prospects to upload files;
There are still many other features that can be used in the form creation dashboard to personalise this template! Learn more about them here!
Use this Form