Mortgage Application
A mortgage application is one of the first steps in obtaining financing for a real estate purchase, be it a residential, commercial or other type of property. With a form and a subsequent branded web app, you can easily determine whether an applicant qualifies or not for a mortgage.
Also, this template is easy to understand and fill out, allowing you to focus more time on data analysis or customer service. Learn more about it below!
Industries for this Template
A wide range of businesses industries can use this kind of form to offer credit accounts to their prospects. This template is useful for all industries, such as:
Agriculture

Financial Services

General Retail

Manufacturing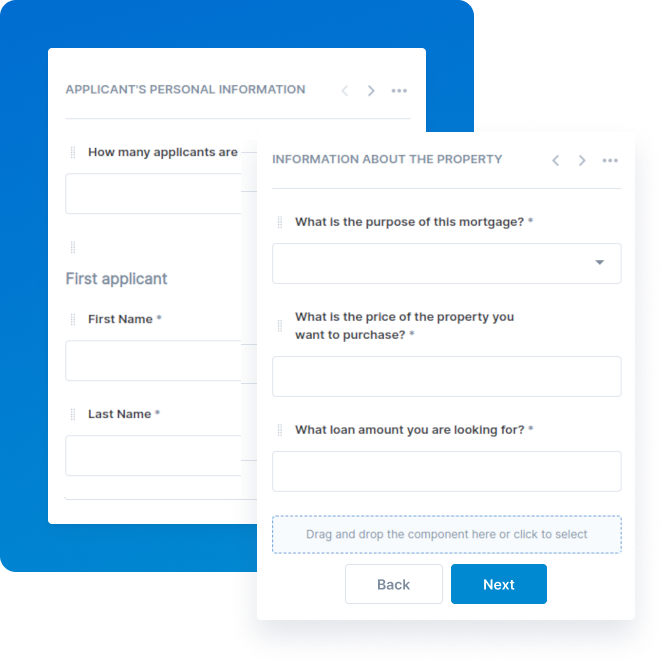 Sections of this template
As a mortgage application is a multiple step process, a form should contain basic information about the clients. For that, this template includes the following sections:
Applicant's personal information

Information about the property

Applicant's assets

Employment, income and credit

Application status
Benefits of this template
Our template aims to make the mortgage application process simpler for both your team and your clients.
Integrated and seamless experience
Instead of building two forms for your applicants (one for single applicants and another for joint applicants), our template can be applied for both.
Right off the bat we ask if two people are applying and we use Conditional Logic (CL) to generate additional questions about the second applicant.
We also use the CL feature to show other questions depending on the respondent's choices. For example, we first ask if the applicants own any property. If they say yes, additional fields asking for more details appear.
Easy confirmation and follow-up
Powform lets you create email or SMS templates that confirm to your clients that their information has been received. Also, you can develop more follow-up templates to communicate more easily with your borrowers.
For example, after receiving and filtering in Powform's database, you can use email or SMS templates. This will enable you to quickly tell a client if they are qualified or not for the next step of the application.
Customisation
Our template is fully customisable. If you need any more information about your client, you can add more fields by dragging-and-dropping components and personalising it with CL. Also, add your brand's visual identity, such as the logo, main colours, and background, to reinforce your brand.
Exceedingly easy, fast and simple to use. Our process is as simple as 2 clicks: import this into your profile and export it as a dedicated Web App for your customers.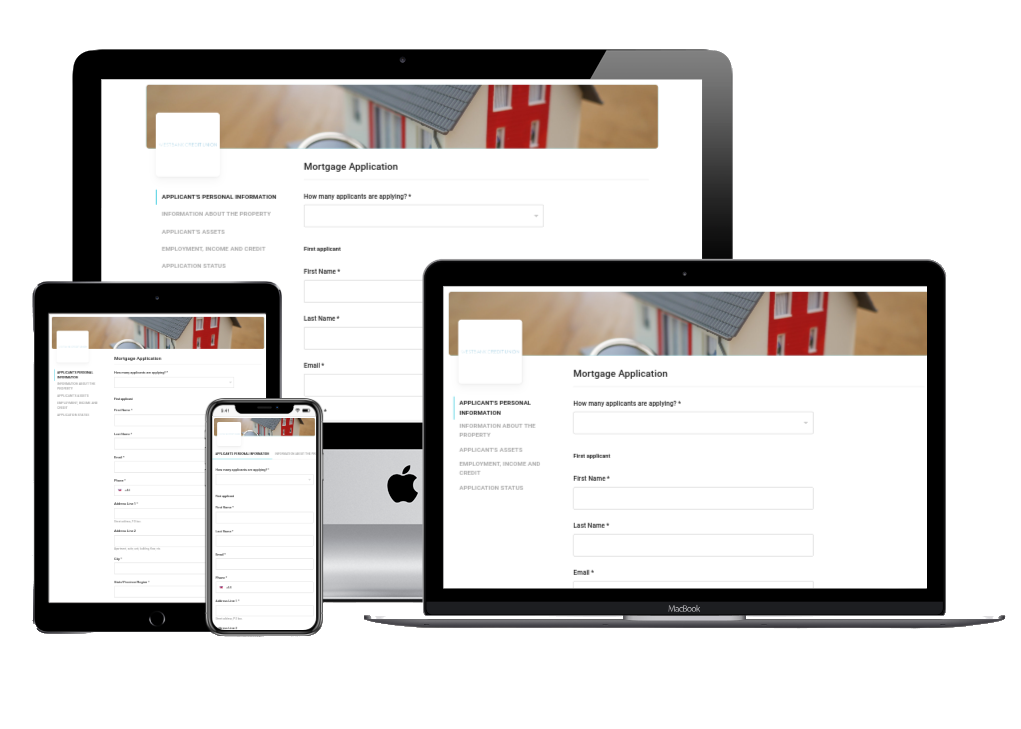 Build your own App
This template is not static and you can customise it in any way you want to. Import it into your profile, and open it in our easy-to-use drag and drop form builder to:
Add or remove pages;

Edit, add or remove fields;

Apply conditional logic;

Allow your prospects to upload files;
Add branding according to your brand guidelines; and more; you can learn about our features here.
Use this Form