Invoice Payment App
A customer bill or invoice form is a document a seller sends to a buyer to collect payment information. Its main purpose is to ensure a business gets paid by its clients. For that, this form collects information about the consumer, their credit card and the invoice itself.
This template is simple and compact, allowing any business to use it. Nevertheless, you can customise it to add more sections or to integrate it with payment processors!
Basically any business that offers any kind of product or service can send an invoice to its clients. Check out the list of industries that benefit from it:
Industries for this Template
A wide range of businesses industries can use this kind of form to offer credit accounts to their prospects. This template is useful for all industries, such as:
Agriculture

Computing

Education

Energy

Financial Services

Food

General Retail

Healthcare

Manufacturing

Pharmaceutical

Telecommunications

Transport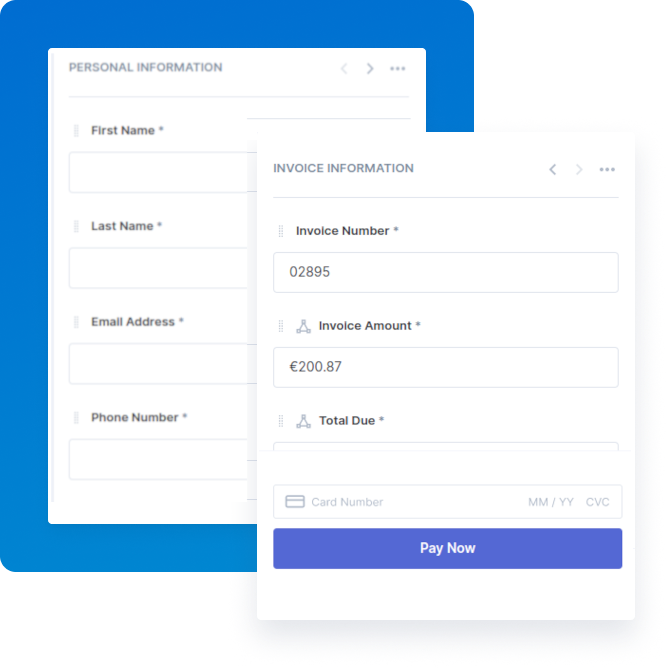 Sections of this template
This template asks for basic information from your client, making it compact, yet complete and useful for any business. Its sections are:
Personal information

Invoice information

Payment details
Benefits of this template
An invoice form should be as easy to fill as possible to eliminate barriers and streamline the paying process for your clients. Apart from being simple, this template offers other benefits.
Integration with Stripe and Paypal
Powform allows integration with two of the most popular payment gateways across Europe and North America: Paypal and Stripe.
You can add them to your form using our drag-and-drop feature, giving your consumers a complete, secure, and easy-to-use payment method. Check out our guide on how to implement them:
Auto messaging and follow-up
After your form is ready to use, you can export it as a Web App and automatically send it to clients. Or you can make it available to your clients through a link.
Additionally, you can use Powform's In App Messaging feature to create a template to keep your customers informed about their payment.
For example, it is possible to create a message template telling your buyers that the amount has been charged to their credit card, a follow-up message letting them know that a receipt has been generated, a reminder about recurring invoices, and much more.
Customisation
If needed, add any more fields necessary to ask more information about your clients or replace default information with specific details for your company. 
Also, you can add your logo, a background and your brand's colours to make your invoice look more professional. This way, you can establish credibility with your consumers, making them feel safer and more comfortable sharing their information and credit card details.
Personal access
When you export your Web App, you can assign specific emails to get personal access to the form. Powform will immediately send the invoice to these email addresses along with the message you set up while exporting the form. If needed, you can also provide a direct link to the invoice form.
Easy information finding
Don't waste your time searching for information about your clients in your inbox, Excel sheets or folders. You can quickly find any information about your clients through Powform's database, which allows you to filter out or find buyers with specific information.
Exceedingly easy, fast and simple to use. Our process is as simple as 2 clicks: import this into your profile and export it as a dedicated Web App for your customers.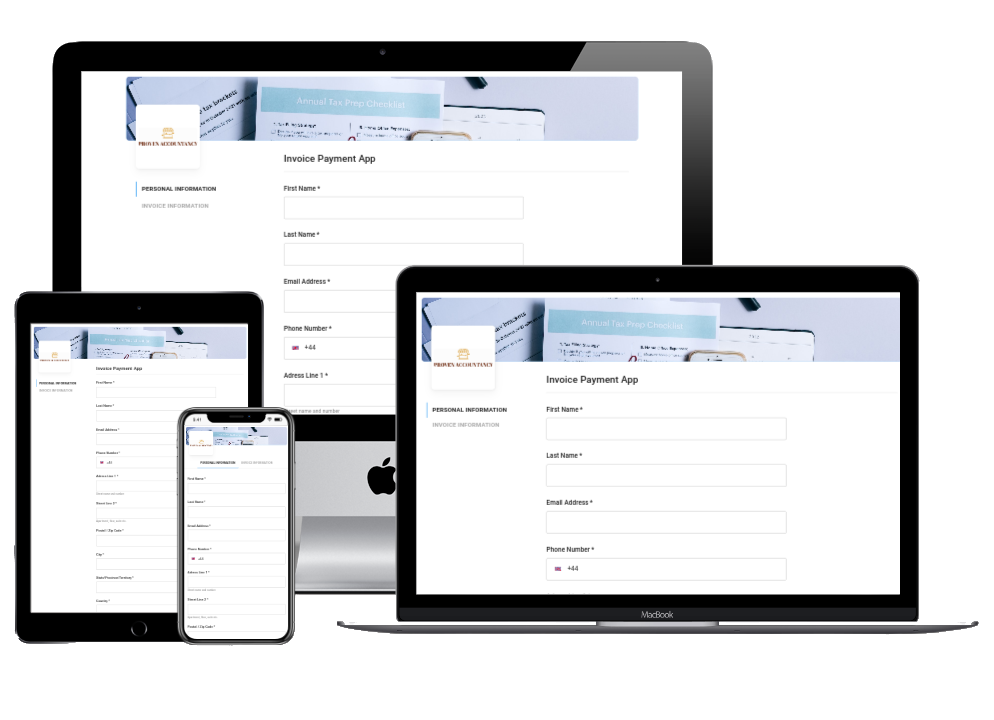 Build your own App
This template is not static and you can customise it in any way you want to. Import it into your profile, and open it in our easy-to-use drag and drop form builder to:
Integrate with Paypal and Stripe

Add or remove pages

Edit, add or remove fields

Apply conditional logic

Allow your prospects to upload files
Powforms have many features that allow you to make your invoice form ideal for your workflow. Learn more about them here!
Use this Form