Current Account Opening Application
Account opening forms are filled in by someone who is opening a new account with a bank, credit union, or other financial institution. It provides all of the information required by a bank to create an account for your client.
You don't need to have your clients fill out paper forms that need to be scanned or uploaded to your system. With an online form, they can provide all the data directly from a desktop or mobile phone.
Even better, this template is ready to use and can be quickly customised if you need it. Check out how it works!
Industries for this Template
A wide range of businesses industries can use this kind of form to offer credit accounts to their prospects. This template is useful for all industries, such as:
Financial Services
Sections of this template
A banking account should be as simple as possible and include all the basic information about the client. That's why our template is divided into the following sections:
Personal information

Account information

Financial information

Documents uploading
Use this Form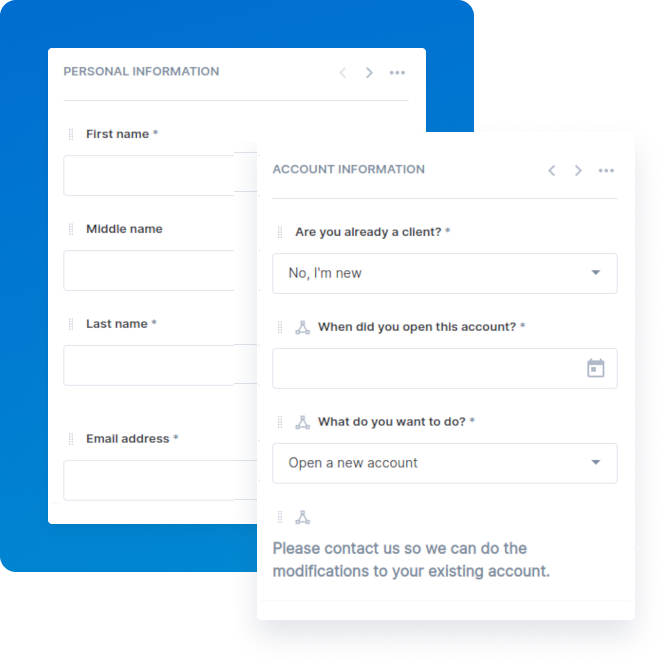 Benefits of this template
This template has exclusive benefits that physical paper cannot provide. Check them out.
Better user experience
A physical document needs to contain many fields, since your clients can be new or established, or want to open a joint or sole account.
With Powform's templates, you can show only the necessary fields according to your client's profile. For example, if your client selects a joint account, new fields asking for information about the secondary account owner will appear.
Additional information can also be provided if the user says he is already an existing client and desires to change an already existing account.
All of that is possible thanks to Conditional Logic (CL), which eliminates unnecessary paperwork and makes the form easier to fill.
Fully customisable
This template is ready to use, but you can use Powform's form builder to add more fields or change the information. For example, you can insert in the form what are the requirements for opening an account, informing your users immediately about these conditions.
More credibility
The more credibility your business has, the more your clients will feel confident in providing their personal and financial information.
When your template is ready to be exported into a Web App, you can add your logo, brand's color and a background, which will appear at the top of your form. By inserting your brand's visual identity, your clients are sure they are filling out a legit form, eliminating the fear of scams.
Easy contact with your client
Prepare SMS and email templates for your clients if an account is being opened, if they don't meet the requirements, if their documents are not accepted, etc. Thanks to Powform's In App Messaging feature, you can see how easily you can create these templates and send messages.
File uploading
Your clients don't need to mail their documents. In this template we instruct clients to upload a photo ID and address proof. But you can quickly edit the message and request additional documents. This can be done directly through their phones, boosting their experience with your bank.
Exceedingly easy, fast and simple to use. Our process is as simple as 2 clicks: import this into your profile and export it as a dedicated Web App for your customers.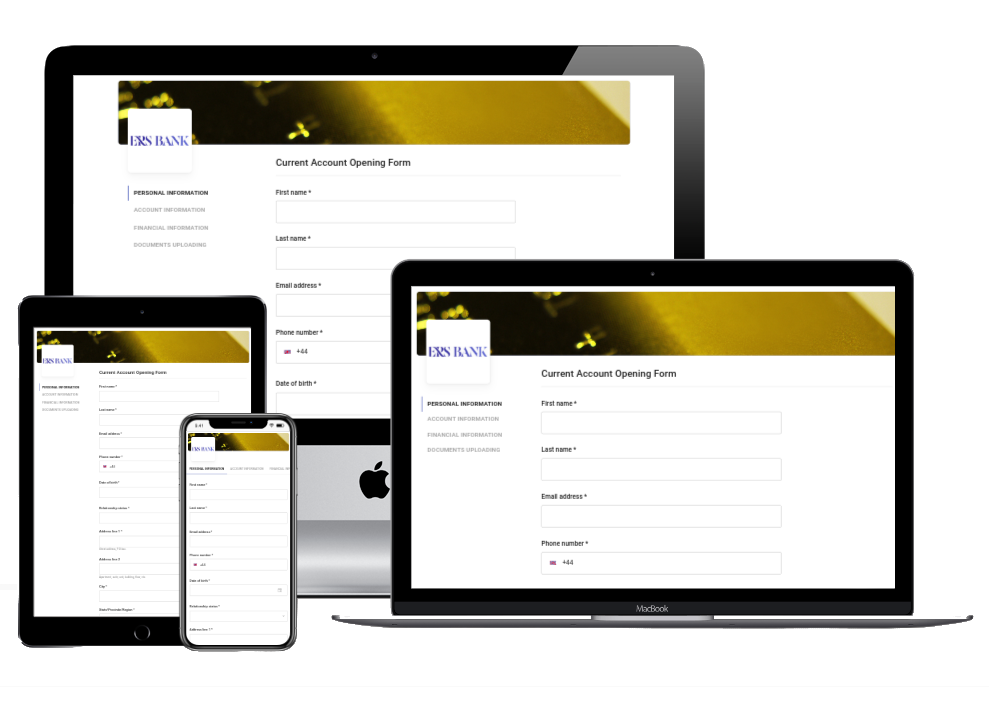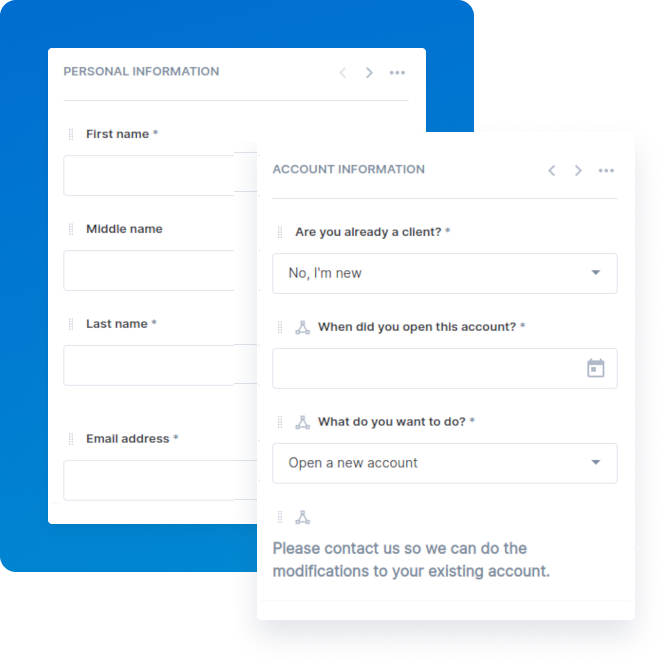 Build your own App
This template is not static and you can customise it however you want. Import it into your profile, and open it in our easy-to-use drag and drop form builder to:
Use the

file upload feature

to ask for documentation;

Add or remove pages;

Edit, add or remove fields;

Apply conditional logic;

Allow your prospects to upload files;
There are still many other features that can be used in the form creation dashboard to personalise this template! Learn more about them here!