Car Loan Application
The Car Loan Application Form is an online form used by financial institutions or any business to allow individuals to apply for a car loan. It collects information from a potential borrower to determine if they are qualified for the loan or not.
Our template collects all of the basic information needed in the first step of a car loan application. However, you can add more sections asking for more information if needed. Keep reading to learn how this template works!
Industries for this Template
A wide range of businesses industries can use this kind of form to offer credit accounts to their prospects. This template is useful for all industries, such as:
Financial Services

Transport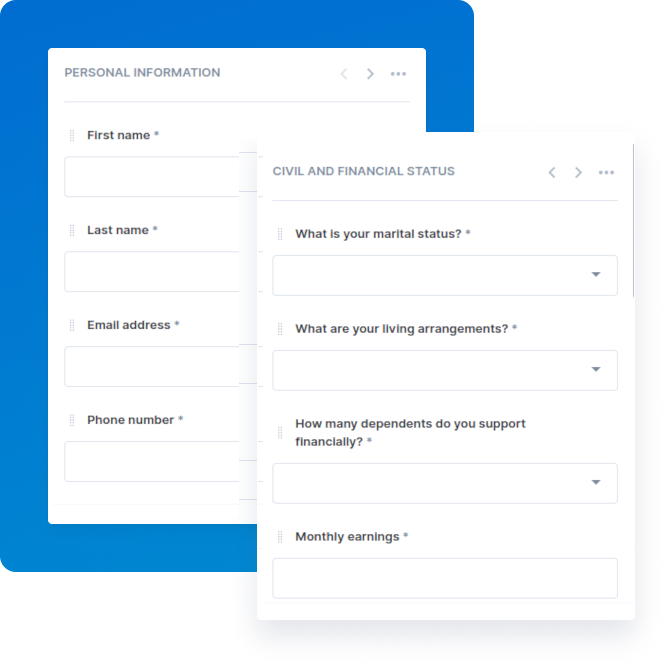 Sections of this template
As you need to collect information about the borrowers, their debts, the loan itself and the repayment options, this template is broken down into the following sections:
Personal information

Civil and financial status

Information about the loan

Repayment options
Benefits of this template
Our template is easy to fill out, simple to configure and comes with all the configuration necessary to be ready to use. But it also offers other benefits.
Multipurpose template
This template is very flexible and can be used for various purposes, such as purchasing a new gas or green car, repairing a car or getting insurance.
You can also offer a completely new loan or a top up loan, which is an additional credit offered over or above an existing loan.
Thanks to this template's completeness and its versatility, you can serve more clients with a single form.
Seamless and easy filling
We use Conditional Logic (CL) to make new fields appear depending on the information your clients provide. For example, if they are asking for a top up loan, new questions automatically will come up about this type of loan.
Your clients won't need to read or reply to unnecessary questions, improving the user experience.
Easy communication with clients
While exporting your form into a Web App, you can select which email addresses Powform will send the form to. You can also set up specific email or SMS messages that will automatically be delivered to your clients when they fill out the form.
It's also possible to prepare follow-up messages to quickly tell your clients if they qualify for the next step of the application or not.
To learn more, read about Powform's In App Messaging feature!
Fully customisable
This is a simple template that can be complemented with more fields asking for more information.
Let's say you want to set up requirements for a top up loan. We provided a Content Component with a few requirements, but you are free to delete or edit it according to your business' terms and conditions.
Before exporting the form into a Web App, you can add your logo, a background and your brand's colour. This will make your form look more professional, reinforce your brand and make it more memorable for your clients.
Exceedingly easy, fast and simple to use. Our process is as simple as 2 clicks: import this into your profile and export it as a dedicated Web App for your customers.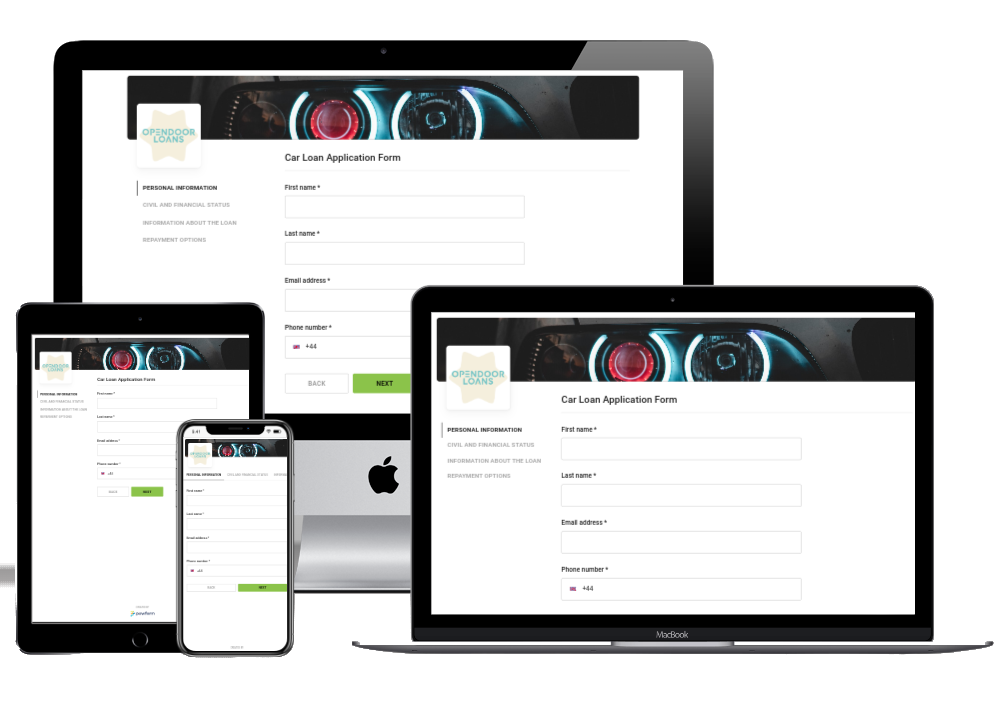 Build your own App
This template is not static and you can customise it in any way you want to. Import it into your profile, and open it in our easy-to-use drag and drop form builder to:
Use the

file upload feature

to ask for documentation

Add or remove pages

Edit, add or remove fields

Apply conditional logic

Allow your prospects to upload files
There are still many other features that can be used in the form creation dashboard to personalise this template! Learn more about them here!
Use this Form