Text Area Component
A Text Area Component can be used to collect basic text information such as an address or any information that's required over multiple rows. This is especially useful for open ended questions where the owner of the app wants greater detail. It is also a good feature to use for an additional comments section if the user of the app feels multiple choice questions are not enough.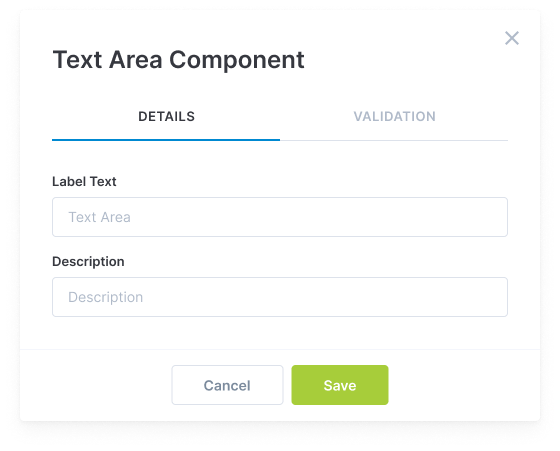 A Text Area Component has a configurable Text Label to give context to the app user as to it's requirements. If the question that you want to ask the user is something like "How was your experience shopping with us today?"  There is an optional description field to help the customer think about their experience "Was parking adequate, what did you think of the staff?"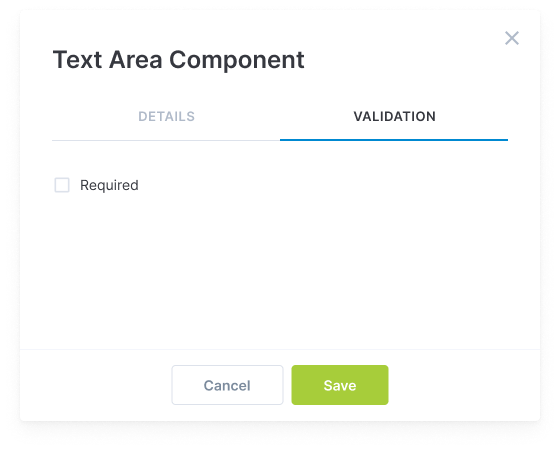 This field can be left as optional but it can be made mandatory by selecting the validation checkbox on your online form.
Textarea Conditional Logic
With conditional logic you can get specific, certain words or phrases or if the field is complete/incomplete you can ask them further questions. So you could start with a basic question "What car do you drive?" if they say "Ford" you can place more in depth questions about "why do you prefer that brand?" and can get rich data from your respondents.
The values that are applicable to the Text Area component are as follows:
Highly Configurable - No Coding
Build professional and fast branded e-commerce and customer data collection web apps, no coding experience needed. Scalable solutions that can be built and integrated into your business in minutes.

Powform enables you to create branded, interactive, multi-feature apps for mobile and desktop browsers, including all the smart features you need collect customer data and payments. With the addition of conditional logic you can provide a more tailored experience for your customers. Our managed secure database allows you to store and analyse all submitted web app data.
Get Started Now