Secure Payment - PayPal Component
A Secure Payment PayPal Component can be used to provide PayPal payment processing capability to published apps. The component when added to a form is presented as the last item for completion by the app user.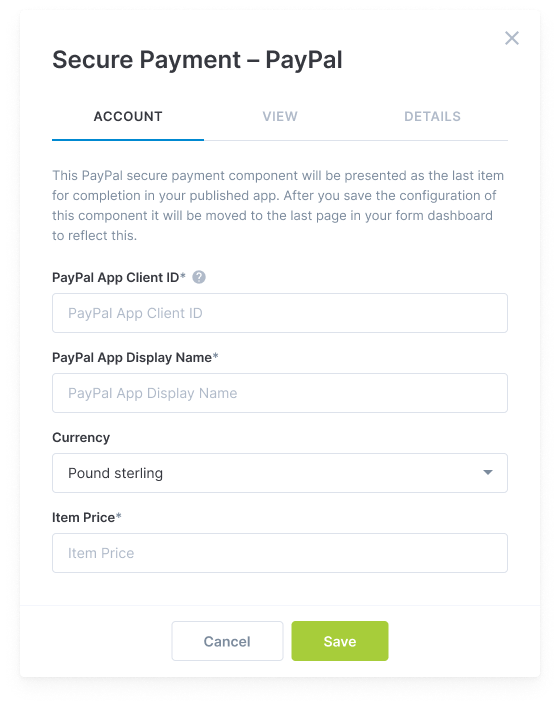 The Account configuration of the Secure Payment PayPal Component contains the required fields PayPal App Client ID, PayPal App Display Name, Currency and Item Price. The PayPal App Client ID can be found in your published PayPal app here https://developer.paypal.com/developer/applications. The PayPal App Display Name can be that of your published PayPal App or something more descriptive. The Currency and Item Price will be the currency and price the app user will pay when completing and submitting the app.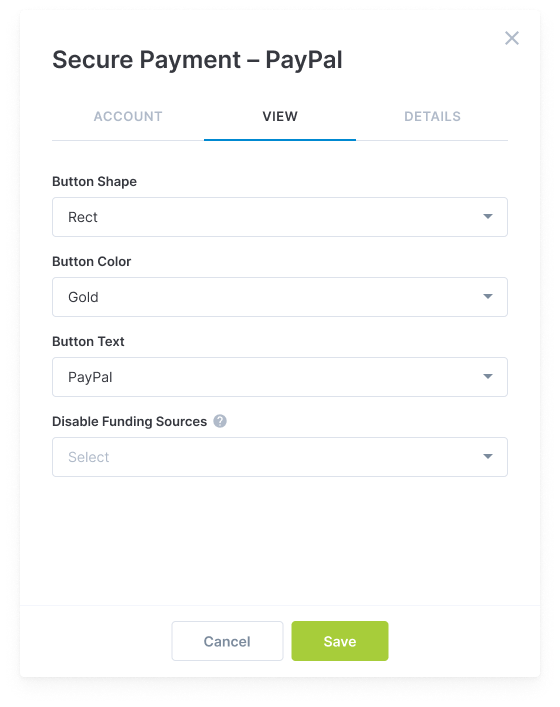 The View configuration of the Secure Payment PayPal Component contains PayPal view options. Choose from the PayPal button shape, button color and button text. There are also a number of Funding Sources automatically available for the app user to pay with based on the smart eligibility logic for the current buyer. You can choose to disable any automatic funding sources you don't want showing in the app from this dropdown.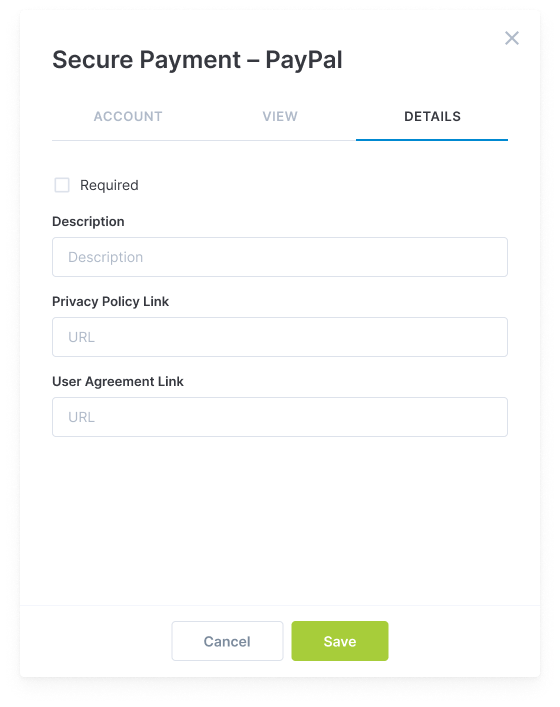 The Details configuration contains a number of additional options. If a payment is required to complete the app the Required field must be checked. A Description can add additional context to the requirements of the Secure Payment PayPal Component for the app user.
If the app is taking payments from it's users it is good practice to provide a link to the privacy policy and user agreement outlining how the submitted app information and payments are stored and processed.
Highly Configurable - No Coding
Build professional and fast branded e-commerce and customer data collection web apps, no coding experience needed. Scalable solutions that can be built and integrated into your business in minutes.

Powform enables you to create branded, interactive, multi-feature apps for mobile and desktop browsers, including all the smart features you need collect customer data and payments. With the addition of conditional logic you can provide a more tailored experience for your customers. Our managed secure database allows you to store and analyse all submitted web app data.
Get Started Now