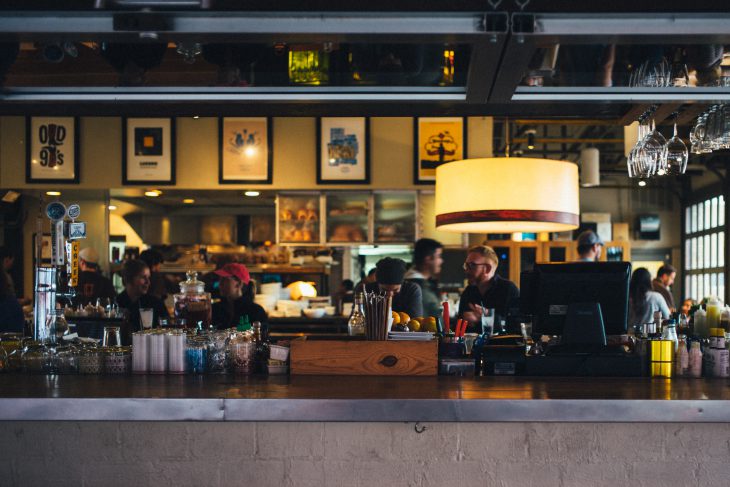 Manage your restaurant or cafe with Powform
The hospitality industry is always changing. Food trends come and go in the blink of an eye, while innovations can emerge out of the humblest of kitchens. Working in tune with the seasons means that specials are added to the board on Monday, only to be wiped away by the end of the week.
Nowadays, restaurants are starting to go digital and this can get technical and expensive very quickly. Point of sale (POS) systems can be hard to integrate without costly professional intervention. Luckily, this is where Powform can help.
Use our drag-and-drop app builder to help with ordering a meal
Powform can offer simple stand-alone in-house meal ordering solutions that easily accommodate changing menus and menu item availability. Branded web apps can be built and deployed quickly, easily, and with minimal cost - without the need for costly POS systems when starting out. Orders can be sent directly to the kitchen via a Powform ordering app, and notifications can be sent back to the waiter or waitress when the order is ready.
Your waiters can take the orders on a mobile system or your customers can use tablets at the table to order themselves, both options are fantastic and perform well. Each experience is different, so the tablet may work better in a fast food setting where the customer wants to order, pay, and eat quickly. Or they may enjoy the face-to-face interaction with waiting staff and want to sit and enjoy their meal. Powform can be integrated into whichever experience your customer base wants, resulting in an all-round effective solution and an overall satisfied customer. 
Allow for flexibility in menus and ordering
With conditional logic, you can offer menus that provide options for all tastes. You may only want a vegan menu, or a seafood menu, or even the kid's menu. Your customer can select which menu they would like, and don't have to see the others, this level of choice will result in making the restaurant experience feel more personal.  
It may not be lifestyle choices that influence decisions. A customer may not be able to eat certain foods because of braod or specific allergies. You can offer an alternative menu with items that are safe for this customer to eat, and they won't have to look at any other menu. It saves them time and energy and lets them know that your business has them in mind. 
You may have customers who want to know how the meal is prepared, where the ingredients come from, and how long the meal takes to reach their table. You may have the exact opposite; the customer may be tired, in a rush, or just not particularly interested in those details. Conditional logic allows for this information to be easily accessible, but only if the customer wants it. 
Your customers may want to see meal deals, or they might want optional sauces, sides, or drinks. Conditional logic can provide sidebars where customers can click and see what the soup of the day is or the particular selection of sauces they want for their steak. Again, the customer does not have to see this if they do not want to. They might be a regular who does not want to see a menu and knows what they want before they walk in the door. A customer may be happy to have the sides and sauces that were chosen by the chef, so they will have no additional requirements. 
Use our drag-and-drop app builder to help with taking payments
With our payment collection component, you can have your front of house staff take the customer's order at the table and your customer will pay for it then and there. Our payment collection system can also be added to tablets built into on or onto a table, so the customer can place the order themselves. 
Customers can see a message about offers on additional drinks or options on the coffee/dessert menu. If that has happened, built-in conditional logic will ensure they don't then have to scroll through these menus to arrive at checkout. Giving users this level of control makes for a fast and reliable experience for them. Others may be delighted to see the selection your restaurant has and will opt to keep looking. 
Use our drag-and-drop app builder to help with inventory management
You may want to digitise your inventory, but do not know where to start. Powform's apps can be used effectively on mobile. With your mobile app you can then begin stock-taking and recording how many of each item you have and can have that data exported to Google Sheets if required. We also offer a bespoke calculator solution to help with your tallying if you need it.
Powform will help you control your costs through a highly organisable mix of components; the data can be categorised into types of goods, which can then be exported and used to forecast trends and plan ahead for peak season. You'll know what stock to put in place for peak months of the year and what to reduce in quieter months. 
Use our drag-and-drop app builder to help with online ordering
Your customers may want to order and pay online and have their orders delivered. Powform web apps can be integrated into your existing website or maintained as a stand-alone app as required. Our apps can offer a high level of choice that will make the experience meaningful to your customers.
Coupled with conditional logic, their favourites can be found quickly as items they have no interest in will not get in their way. Entire orders can be saved as a template too, so if they have a particular set of dishes they love then it will be ready for them to order immediately, complete with their sides and drinks of choice. Other customers may be hosting a party so looking for platters or meal deals that cater to a gathering is important to them, they will not need to see smaller meal deals or single items, so conditional logic can take them straight to a 'party' section. 
Use our drag-and-drop app builder to help with branding
You may have multiple restaurants, and your restaurant order taking apps will need different themes and branding to make them instantly recognisable. A breakfast restaurant would have a different feel and theme to a vegan restaurant, for example. You can run multiple apps on your Powform account, each with their own branding, which will add a level of personalisation and professionalism that your staff appreciate (and will help you tell your apps apart quickly). 
A delivery app can be separate from your in-house app, which has a different branding and flow that will be more relevant to your customers. You can include different imagery as well as copy/instructions for the customers who wish to place an order. Using your own branding also helps with a higher level of reservation completions.
Use our drag-and-drop app builder to help with promotions
If you need help spreading brand awareness, you can avoid waiting for customers to type "restaurants near me" and hoping they pick you. Instead, you can reach out to them directly or more generally via social media with your Powform apps and offer them, for example, promotions or a chance to make a reservation with a discounted price. You will have all of your information on display - such as who you are, what kind of food you serve, and where you are located. You will also learn about interested customers based on the questions you asked them, and you can personalise your approach to marketing that way.  
Implementing hashtags that are relevant to your customers' needs, coupled with an easy to use and easy to access web app, has proven to result in a higher click-through rate as well as a higher form completion rate. New session apps can also be released to the public as part of promotional campaigns for St. Patrick's Day or Halloween, for example. 
Use our drag-and-drop app builder to help with hiring staff
With the potential for high turnover rates in the restaurant industry, it is important to hire the right people. Powform can help you through each stage of the recruitment process. You can build a job application app with Powform and publish it across your social media channels for better engagement. The file upload feature will allow potential employees to upload their CV and their cover letter. It can be a much cheaper option than using jobs sites, and you can approach new hires proactively.
You can use Powform's radio component to gauge someone's experience levels, how they found out about the job, if they are currently employed, and what their notice period is. You can also build a calendar and your potential hires can select which days out of the week they can work (for example, they might be full-time students and only available evenings and weekends). Once the form is completed, your management will have a complete picture of each applicant to compare and contrast.  
Our drag-and-drop app builder are easy to build and use
Optimal training can be provided to staff to use your Powform branded web apps. Our components are designed to be understood quickly, so your staff will not be scratching their heads in the middle of a rush. They will understand exactly how to operate your Powform web apps with just a bit of practice. This also goes for back of house staff too; they are busy as always and do not need an overcomplicated system slowing them down! They will be able to view multiple orders at the same time and use their skills to put out and track food efficiently. 
Conditional logic will result in a highly organized and efficient system - your staff will find exactly what they need in the right subheadings, take your customer's order, and send it straight back to the kitchen where kitchen staff will receive a message that the order in. If your wait staff is in another part of the restaurant, the kitchen staff can send a message back to let them know that the order is up. 
Input from staff and customers can be incorporated into your app with ease, a different component that would make their job more efficient or enhance the experience of your customer with extra options. A test app can even be used before building this new component into your service blueprint, which you can stress-test after hours.
Managers can come together and figure out the necessary components they need to make their employees' jobs fast and effective, and to get inside the minds of their customers and figure out what they need before they even ask. Further integrations can be provided as required, if there is a component that you feel you need to provide the best level of service for your customers, Powform can build it for you. 
If you want an integration for an ordering system on your website, then it can be built and integrated by our Powform development team at a competitive price. Powform can help you build fast, branded, no-code web apps that are extremely cost-effective as you won't need to hire a development team to build and maintain your web apps. Because it's so intuitive to use, a manager can get to grips with the Powform platform easily through our help section.
Highly Configurable - No Coding
Build professional and fast branded e-commerce and customer data collection web apps, no coding experience needed. Scalable solutions that can be built and integrated into your business in minutes.

Powform enables you to create branded, interactive, multi-feature apps for mobile and desktop browsers, including all the smart features you need collect customer data and payments. With the addition of conditional logic you can provide a more tailored experience for your customers.

Our managed secure database allows you to store and analyse all submitted web app data.

Want to store all app data in house?
App submissions can be directed to other business systems via secure authenticated api services.
Contact us today to discuss your custom branded no-code web apps requirements.
Get Started Now