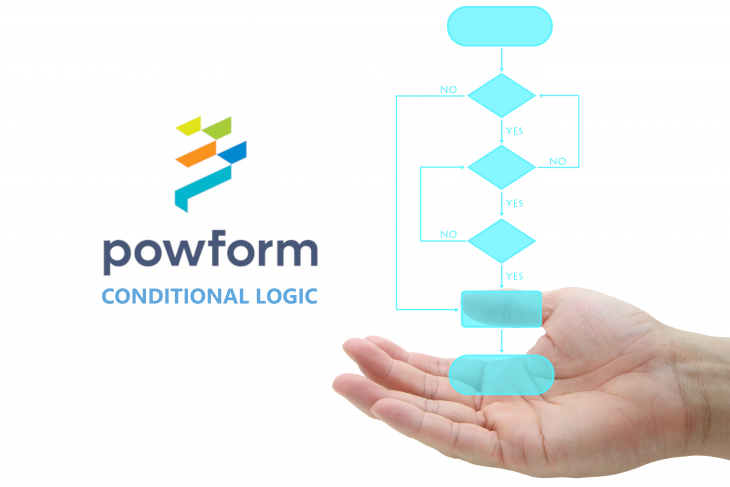 Powform Conditional Logic Forms and Web Apps
Putting together simple forms for surveys and questionnaires can be done on many no-code platforms, but how many really offer a series of complex business logic conditions to impress your customers?
Powform has recently launched conditional logic, which will result in your forms performing dynamically as your customer interacts with them. In a world where many systems are uniform, it can be easy to introduce a little bit of fun back into the customer experience if you know how. Customer surveys and questionnaires do not have to be tedious, with the right blueprint, relevant questions, and some conditional logic the overall experience can actually be pleasant for the shopper.
How does Conditional Logic work?
Conditional Logic follows If/Then conditions. If a certain value is entered in one or more Powform components then a hide, show, disable or enable action can follow on one or more other Powform components. A particular field will receive a hide/show based on one or more conditions which is all set in motion by a customer's answer resulting in a dynamic flow and meaningful experience for your customers. These fields can also be made required/unrequired depending on the answer a customer gives.
Benefits of using Conditional Logic
When using Conditional Logic the form appears shorter, which will increase form completion rates. Conditional logic will only show the user information that is relevant to them. There are some fields that should be required (email, phone number, full name) to get a basic set of data about your customer but the rest can be made personal by conditional logic.
This will ensure that your data collection solution operates as it should and you have ways to receive the information and protect your strategies from incomplete forms. Entire sections of forms can be completely skipped if the customer does not need to see it. This relevance will keep the customers focused and result in a higher number of completed forms.
If your customer is completing the form on their mobile device, which most online shoppers are, then the abandonment rate will increase if they come across a difficult to complete form on a smaller screen.
Conditional Logic with payments
With Powform you can produce a series of rules to calculate the total owed by your customer at the form completion stage. Paying an invoice or making a simple payment will appear effortless for your customer while a sophisticated conditional logic configuration works in the background.
Personalisation is key to customer satisfaction
Customers are now oriented at the center of business processes and one of their main requirements is personalisation. They want to have a meaningful experience while shopping that is useful to them. It can often be difficult to apply this in certain settings, both in store and online, but Conditional Logic will make your customers' online experience useful, fast, and personal.
Building your Conditional Logic form
Keeping your Conditional Logic simple is a good way to boost customer stratification and form completion rates, which is why understanding the rules and what they mean for your online forms is important. Decreasing the number of fields is important, but do not be so over enthusiastic with conditional logic that your number fields jump back up significantly or you will just have the same problems.
Initially, building a conditional logic form with Powform can require a bit of practice (we have materials and customer support to give you extra help if you have need of it) but the benefits that Conditional Logic brings to you and your clients is well worth the effort. Go beyond simple forms and set yourself apart from your competition with our conditional logic.
If you are struggling to figure out why you have certain questions in your forms or where to place them then you could always beta test your online forms before launch to understand what is important to your customers, what questions are relevant and which ones can be cut.
Examples of configurations you can build with Conditional Logic
Conditional Logic can be applied to your forms and add a personal touch with just a bit of effort, your customers will think that the forms were made just for them. The entire form can be full of conditional logic or it can be applied in places where you think best. Below are a few examples of what is possible with Powform and Conditional Logic.
Customer feedback smart form
Getting good customer feedback is important for any business. With Conditional Logic you can ask your customers to provide basic feedback on the quality of your goods or services and if the customer is generally happy with the goods or services on offer you can ask for more details such as requesting a full review via a Text Area component.
On the flip side you may also want to know where you are going wrong, so you can set conditional logic to launch the Text Area detailed feedback component if a customer is not happy.
Employee expense claims
Conditional Logic can be used to collect your employee expenses at the end of the working week/month.
An employee simply selects the number of expenses he/she has for the week or month. The number of expenses selected will reveal the number of expense fields the employee should complete based on Conditional Logic.
Workplace safety - First Aid Quiz
Informative quizzes can easily be set up for employees using Conditional Logic. Here we have a Workplace Safety First Aid Quiz for employees. It's easy to complete with the aid of Conditional Logic and will ensure that once completed your employees will have learned and understood the correct ways to implement safety in the workplace.
If the wrong answer is selected as shown above then the user is informed with a prompt to try again. If the correct answer is selected then the description can be used to provide more context and educate the user further.
Once the user has answered all of the questions they can view their answers one more time before they submit the quiz to be graded.
Conditional Logic is a worthwhile implementation, it is the little that your customer will appreciate.
Sign-up to Powform today and we can help you build and implement smarter forms than the rest, that will boost customer retention and customer satisfaction. It can be daunting to build Conditional Logic at first that is why our staff are here to help you in any stage of your no-code build.
Highly Configurable - No Coding
Build professional and fast branded e-commerce and customer data collection web apps, no coding experience needed. Scalable solutions that can be built and integrated into your business in minutes.

Powform enables you to create branded, interactive, multi-feature apps for mobile and desktop browsers, including all the smart features you need collect customer data and payments. With the addition of conditional logic you can provide a more tailored experience for your customers. Our managed secure database allows you to store and analyse all submitted web app data.
Get Started Now