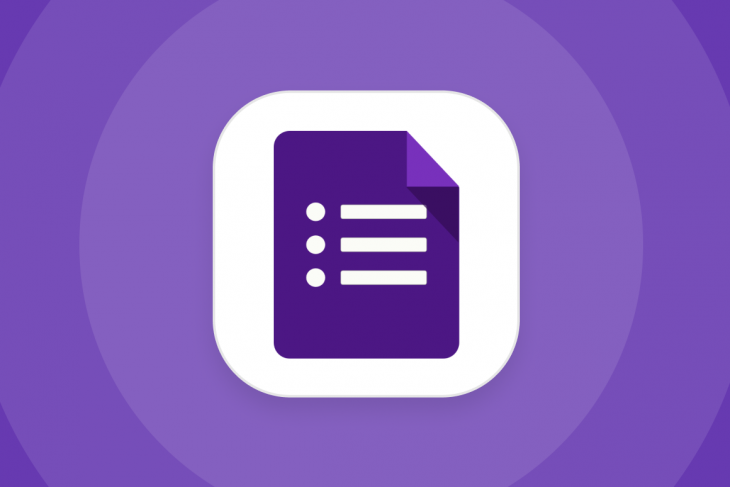 Google Forms
Google Forms is a versatile tool that is used by businesses from a wide variety of fields. It is free and is well suited to parties who need surveys or questionnaires or even putting together an RSVP for an event, it is a tool built specifically for these purposes and can be found on G Suite. The online forms are high quality, offering a high level of customisation. You can build an online form from scratch or you can edit the pre-existing templates that Google Forms offers.  
Google Forms setup: simple and straightforward
You just have to sign-up to a regular Google account and you gain access to Google Forms, so setup is minimal and you can save your work in progress just like you would a document on Google Docs or a spreadsheet on Google Sheets. You can use an existing Gmail account or you can create one just for the purpose of using Google Forms, all Google asks for is some basic information to get you set up.
Google Forms has a solid selection of templates
Even with no-code it's hard to know where to start and what to build, Google Forms have built a number of templates that could be exactly what the user is looking for.
You can also customize the theme of your form, Google Forms allows you to select the color scheme, the background color, the font, and an image that will appear in your forms header.
Google Forms is an efficient survey builder
Google Forms has a drop down menu of question types that you can choose from; paragraphs for answers that need to be expanded upon, a file upload (from Google Drive) to answer a question with an image or document, Date and Time components that are perfect for making appointments. There is also a Linear Scale where respondents can rank products, services, experiences out 0-10.
They also offer a Multiple Choice Grid, where respondents tick the correct box and a similar Checkbox Grid, where respondents select the correct panel. These components can be used all in the same form if you wish, resulting in a rich and varied experience for your respondents.
Google Forms has a good level of Conditional Logic
To make an online form more personalized Google Forms have also incorporated conditional logic into their selection of questions. This results in a more meaningful experience for the person who is using the form, they will only see questions that are relevant to them.
Multiple Choice Questions will have you pick one answer from a selection of answers, if it is a health form example if the respondent is not allergic to anything then they should not see any questions related to this allergy. They get to skip any unnecessary allergy questions because they do not have any allergies.
Google Forms uses Checkboxes and Drop-down Menus the same way, there are whole sections a person will need to complete depending on their situation whereas other respondents can skip it resulting in a more useful form and a better user experience (UX).
Google Forms have different settings for different forms
You can build a Quiz with Google Forms for example, they already have the settings prebuilt. You can allow the respondent to see what they got wrong and what they got right, and you can also tell which answer is correct. This is perfect for teachers and staff in charge of training to quickly test the knowledge of their team/class. Automarking can also be put in place, with the value of correct to be placed on an acceptable answer while the rest are incorrect, and you can also go that extra step with a points system.
How Google Forms manages and stores your form data
One way of checking this is going to the responses tab on your Google Sheet. You will see the responses and how they did on their quiz/the insights they provided on their survey. If you are not just satisfied with checking your response on your Google Form account you can link it with Google Sheets, once you select the correct formula you can manage your data whatever way you see fit.
Your online form can be linked up with Google Sheets, to compile your respondents answers to your online survey or online quiz. From here you can inform your form development, if students were struggling with a particular question it might be that it was a vague question and can be corrected for the next time. This data might even influence your business decisions going forward if you presented your customer base with a survey.
Google Forms is highly collaborative
Much like Google Drive or Google Docs there is a high level of live interaction between team members on Google Forms. This ensures a high level of rapid input across the board, mistakes can be changed as teams see them.
The number of respondents that can see the form can be limited too, this can be used to your advantage as you can beta test your form and correct the form flow as well as any errors they encounter. This is if you are trying to build your own form, you may just use a template which is already well prepared for launch. You can share your form through email, all of your social media channels, you can also embed the form link into your website if you wish.
What Powform can offer that is a little bit different
Businesses of all sizes have their own problems, they could have anticipated them ahead of time or they may even be an issue that they could not have predicted. They may need a bespoke solution and they may need it fast, Google Forms delivers solutions quickly with their templates and the range of options they offer templates but if you may need a special integration that Google does not work with and that is where Powform comes in.
Powform offers bespoke web app solutions in our Enterprise Plan, a service that much bigger web app platforms such as Google Forms does not offer (at least at the moment). We are a smaller, dedicated team that can speak to you directly and assess your exact requirements and build custom components to fit your needs.
Google Forms offer a wide variety of templates to suit many business needs, but businesses can still be undecided just by looking at the wide selection that is offered to them. You can build your own no-code web app solutions, but if you need the extra help then Powform is there to deliver. Powform offers our experience to you, by email or phone call or a Zoom call by request.
You can also build web apps (on our Premium Plan) that can collect payment through PayPal and all major credit/debit cards, Google Forms does not offer this component. If you are organizing a competition that requires an entry for example, then you can have contestants enter their answers and submit payment to be in with the chance of winning a prize.
In a business sense, this can also be a fast and easy alternative to an online pop-up shop and it can be integrated with your website and your social media. This can result in a much smoother customer journey, particularly in the area of User Experience (UX) as Powform apps are fast and safe and perform well no matter what device or platform you use. Your no-code, self built web apps will operate swiftly and a new feature or component of your own design, in collaboration with Powform, can be implemented as soon as the component is launched.
Highly Configurable - No Coding
Build professional and fast branded e-commerce and customer data collection web apps, no coding experience needed. Scalable solutions that can be built and integrated into your business in minutes.

Powform enables you to create branded, interactive, multi-feature apps for mobile and desktop browsers, including all the smart features you need collect customer data and payments. With the addition of conditional logic you can provide a more tailored experience for your customers. Our managed secure database allows you to store and analyse all submitted web app data.
Get Started Now