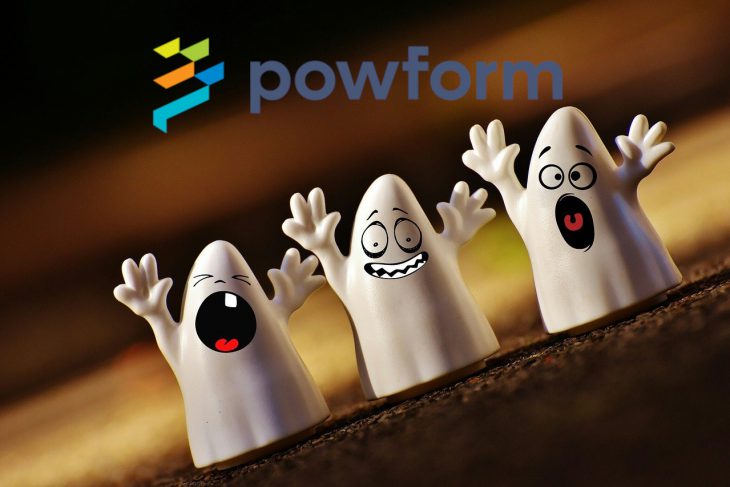 Watch out for Powform this Halloween!
Halloween is just around the corner and events are being organised to celebrate the holiday. Do you need an app that will help you prospect for event goers and have them sign-up with their details so you know how many pumpkins to have at your carving session or how much food and drink to have at your party? Do you need to collect payments from your party goers before they get to the event? Powform provides solutions to these problems with our branded, no-code, web apps that can be built in minutes.
Powform Plus Plan
This plan is perfect for a single user or a small team. The plus package offers up to three forms that can be converted into a branded web application ready to use immediately, no coding experience needed. Gauge interest in your Halloween party and send your would-be guests their invites, they can RSVP from there and you will have the numbers for your event. You can build sign-up forms and include whichever fields you would like (name, date of birth, email, phone number etc.)
You are in total control of your profile and can grant access to the app to your team members as part of a brand awareness strategy. It can be shared across multiple social media channels to generate interest and to collect your party goers details.
If you set a limit at forty guests, for example, once that number has been filled then the app can be deactivated. Our branded web apps can also be set up in a way that interested parties only have a limited time to sign up. If your party is on Saturday, then you can set the deadline to Thursday at midnight. Their link expires and they cannot buy a ticket/book their spot, helping you cover your expenses and drive up demand at the same time.
A cost effective way to keep your guests up to date and planning ahead for the upcoming Halloween events for less than €5 per month. You can build up to three apps on this plan, but if you are only using it during October then you can cancel your subscription at the end of the month (there is no cancellation charge).
Powform Premium Plan
You can do all the Plus Plan above offers and more. If you need to collect payment for your Halloween event, then the Premium Plan is perfect (and at the reduced price of 50%). It is scaled to a larger team , allowing for a wider variety of sales and marketing strategies to be used.
Maybe you don't even have a venue, a ghost tour or a séance would need a number of tour guides who can all independently collect payment. The where, when, and any information about the historical sites can be built into the app along with any branding you have for your event. This will entrigue and engage your end user and will result in sales.
When submissions are made to a branded web app for sign-up and payment, the owner is notified which makes it easy to keep track of who is interested and who is not during every phase of the Sales Cycle.
You can build up to 20 apps, as you meet challenges in event management you can build your own web apps to meet these demands with our ever growing selection of app components. These app configurations can range from market research, to payment collection, to sign-up and everything in between to meet the demands of your clients.
Powform Enterprise Plan
Scalability is not an issue with Powform, we offer bespoke branded web app solutions for large scale organisations too. If you are planning a huge event and need a platform that can track and manage all of your clients/customers then our developers can put together a High End, low-code, payment collection and sign-up as well as the special requirements your company may need.
Our software development team can create seasonal solutions or year round depending on your business needs and strategies. You can also create an unlimited number of apps and have an unlimited number of app users as well. This data that was submitted by your customer can be stored safely and can then be exported to any structured data platform you need.
Highly Configurable - No Coding
Build professional and fast branded e-commerce and customer data collection web apps, no coding experience needed. Scalable solutions that can be built and integrated into your business in minutes.

Powform enables you to create branded, interactive, multi-feature apps for mobile and desktop browsers, including all the smart features you need collect customer data and payments. With the addition of conditional logic you can provide a more tailored experience for your customers. Our managed secure database allows you to store and analyse all submitted web app data.
Get Started Now