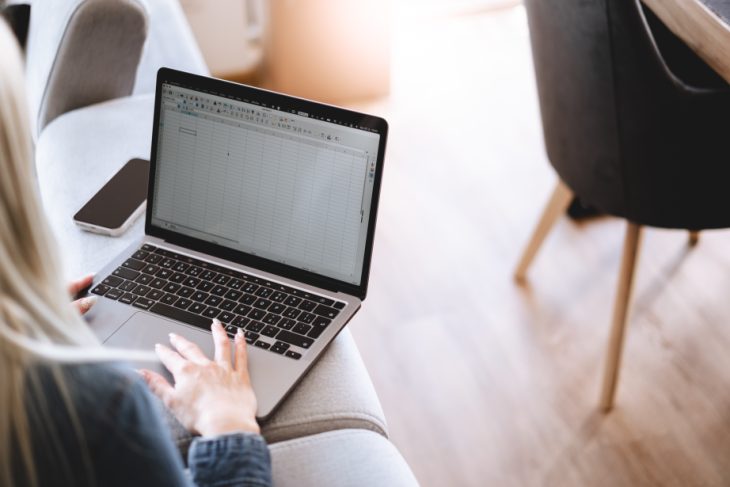 Convert your existing spreadsheets to Web Apps instantly
Boost your business integration and data collection with our import CSV feature!
If you are currently using spreadsheets for collecting and managing data and need a modern secure web based solution, building dynamic Web Apps via an import CSV feature is ideal for your business. This functionality was created especially to modernise both your payment and data collection processes.
You may already know that CSV spreadsheets can hinder collaboration, have limited functionality, and present security risks. On the other hand, bespoke and out of the box enterprise software systems for large organisations are expensive and can take a long time to put in place.
All of these concerns are solved if you start using Web Apps with an import CSV feature. No-Code Web Apps can offer inexpensive robust easy to build and deploy enterprise solutions within your modernising process. Learn more about this functionality below!
What is a No-Code Web App and how does it work?
A No-Code Web Application (Web App) is a program built with no coding, stored on a remote server and can be accessed through a web browser (such as Chrome or Firefox). That means there is no need for downloading and installing software on each device.
In practice, you create an online form without needing to code it that requests specific data from your clients. All information can be quickly accessed in a database, exported, edited and integrated into other applications through API's.
Most Web Apps require a development team, but a No-Code platform designed for ergonomic use and fast implementation allows you to create forms with a drag-and-drop form builder. It gets even easier with our import CSV feature.
How can an import CSV feature help me?
Import CSV is a feature that allows users to upload CSV files into an application or software program to speed up the Web App creation process. In practice, a user provides an Excel or Google Sheets file with the .csv extension, the platform reads the data and converts it into an web application in seconds.
This functionality unfolds into several benefits that contribute to your processes' performance, which are explained below.
Enhanced data collection
Expect form completion rates to skyrocket when collecting data through a well designed Web App. That happens due to an improved user experience (UX) overall.
Your clients and users will be able to easily understand how the form works, as the interface is intuitive and user-friendly. Another great UX feature within the Web Apps is Conditional Logic (CL), which enables and disables fields according to the user's choices and answers.
A Web App also provides accessibility to your users. They can use the app from their desktop, laptop, tablet, or smartphone. They just need a link to the form.
Brand strengthening
You also create a more convenient and direct way for your customers to connect with your brand. Customer satisfaction improves overall, leading to higher customer loyalty
In this case, it's crucial to use a platform that allows you to insert your brand's visual identity into the form. This reinforces that it's your brand that provides that excellent experience.
Time-saving
The import CSV feature automatically reads your sheets and allows you to choose the components of the form.
If you use a platform that doesn't require coding knowledge, your business saves time with training and onboarding. Your employees will quickly learn how to use it by reading a simple guide.
You also save time on software implementation required for larger enterprise-level software — which requires a lot of resources and time.
Improved accuracy
Traditional CSV spreadsheets may cause many data input issues. Some sheets use different formats or are built differently, causing incompatibilities when exporting or importing from other applications. Also, sometimes manual modifications or additions are required.
On the other hand, after importing your CSV sheets, you minimise manual work and all data collection becomes accurate, standardised, and consistent across all users and sessions.
Collaborative work
Even if you can share Excel and Google Sheets, this is not an efficient way to boost collaboration. It's possible that the changes they make to the files are not standardised and can negatively effect the analysis later on.
With a Web App, your employees can share forms. In practice, they import a CSV file, start the form creation process and share the project with their work colleagues. With this functionality, a team can edit a form while keeping the data collection process consistent.
How does the import CSV process work exactly?
There's no need to implement a bespoke costly system for your business. A well-designed no-code platform which includes a CSV Import Wizard allows Web App solutions for your business within a few clicks.
Let's say you have numerous CSV spreadsheets that store data collected from clients and users. You just need to make sure they meet the feature's requirements — which can be found here — and import them.
A new prompt will appear where you select the heading for each component. You can customise the components, add rules, change the order, and make other modifications until it's perfect for use. Now you just add your brand's visual identity, export it into a Web App and send it to your clients.
If necessary, you can export the data back to CSV. This is very useful if you use services or applications that still require traditional spreadsheets. That makes our Web Apps even more appropriate if you are looking for a tool that can still be useful for your current technologies during your digital transformation process.
What are Powform's exclusive benefits?
Using Powform for Web App creation, your business can import CSV files and benefit from many other features.
No coding knowledge is required
It's not necessary to hire designers or developers to create Web Apps. Powform's form builder is intuitive, making it possible for anyone to use all functions.
This makes Powform the best choice in terms of cost-effectiveness and time-saving, as you don't have to spend money on hiring, onboarding and training.
Easy to use
After your team imports CSV files, they can use the drag-and-drop functionality to customise your app to your specific needs. They can also take advantage of pre-built and ready-to-use templates that Powform offers!
Branding
Before exporting the Web App, you can add your brand's logo, colours and a background. This is extremely relevant to keep in your clients' and users' minds that it's your brand that provides this seamless experience.
Version control
You can see the data collected in each version of the Web App. Let's say you made changes to your Web App and published the new version to clients. In Powform's Database, it's possible to select older versions of the Web App you want to check or export old data.
Integrations
If you plan to implement additional applications and software, Powform can integrate your current Web Apps and information with 3rd party APIs. For example, if your business is going to use Salesforce in the future, all of the data you've collected and Web Apps created can be integrated to your next system.
Although spreadsheet CSVs may be suitable for small-scale processes, they have several limitations that make them unsuitable for a growing company. Bespoke and out of the box larger enterprise-level software can be too costly and take a long time to implement, partnering-up with Powform to import CSVs and create No-Code Web Apps is the most effective strategy to keep growing.
Want to see Powform's features in action? Request a demo with us now!
Highly Configurable - No Coding
Build professional and fast branded e-commerce and customer data collection web apps, no coding experience needed. Scalable solutions that can be built and integrated into your business in minutes.

Powform enables you to create branded, interactive, multi-feature apps for mobile and desktop browsers, including all the smart features you need collect customer data and payments. With the addition of conditional logic you can provide a more tailored experience for your customers.

Our managed secure database allows you to store and analyse all submitted web app data.

Want to store all app data in house?
App submissions can be directed to other business systems via secure authenticated api services.
Contact us today to discuss your custom branded no-code web apps requirements.
Get Started Now