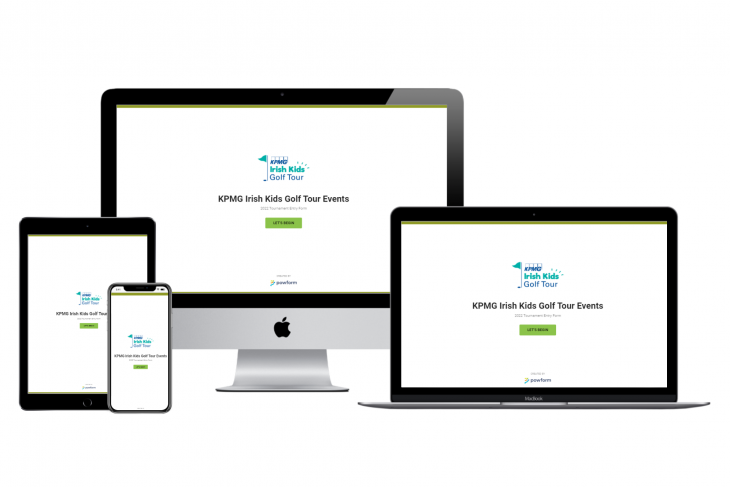 The Irish Kids Golf Tour 2022 Tournament entry app
Powform is back with the Irish Kids Golf Tour. This time with bigger and better features! Established in 2017 to serve competitive junior golfers and their families, the KPMG-sponsored Irish Kids Golf Tour offers professionally-conducted competitions, helps develop juniors on and off the golf course and prepares them for competitive golf and life beyond childhood. 
Played over some of Ireland's greatest courses, the tour is open to boys & girls aged from 6-13 years old. Starting each year, the first four tournaments are played in each of the 4 provinces of Ireland. The tour ends with the 'All Ireland Trophy' tournament played in late August. 
Powform adds conditional logic to the 2022 Irish Kids Golf Tour Entry App
In Powform's first tour outing in 2021, we had set prices with a web app for each of the 5 events. Now, in 2022, five apps have become one with the implementation of conditional logic. The competitors may want to compete in one or more legs of the tour, so conditional logic allows for that. The competitor fills in their details, what tournaments they want to compete in, their age, their gender, and then the specific price for their selection is tallied up automatically via conditional logic.
Conditional logic benefits the form in multiple ways and improves the overall user experience (UX) through service model optimisation:
The form appears shorter, which will result in a higher rate of completion.
Dynamic pricing based on age, gender and number of events provides more competitive rates to the competitors.
Users will only see sections/questions that are relevant to them, resulting in a more useful and meaningful experience.
Improves overall workflow processes (data is already organized when it arrives back to IKGT).
User error is minimised due to the high level of control placed over the forms, resulting in a high level of satisfaction on both sides.
Conditional logic is provided as part of our plus, premium and enterprise plans, Powform is scalable to an enterprise of any size.
If you know of anyone who is interested in competing, there are no conditions to qualify for a spot on the tour. The tournament schedule is as follows:
Leinster Trophy - 15th April - Dun Laoghaire GC
Ulster Trophy - 29th May - Slieve Russell
Connacht Trophy - 15th July - Galway Bay GC
Munster Trophy - 15th August - Fota Island
All Ireland Trophy - 24th August - Carton House
Links can be found through the Irish Kids Golf Tour website, on their social media channels and on KPMG's website.
Highly Configurable - No Coding
Build professional and fast branded e-commerce and customer data collection web apps, no coding experience needed. Scalable solutions that can be built and integrated into your business in minutes.

Powform enables you to create branded, interactive, multi-feature apps for mobile and desktop browsers, including all the smart features you need collect customer data and payments. With the addition of conditional logic you can provide a more tailored experience for your customers.

Our managed secure database allows you to store and analyse all submitted web app data.

Want to store all app data in house?
App submissions can be directed to other business systems via secure authenticated api services.
Contact us today to discuss your custom branded no-code web apps requirements.
Get Started Now